Lisa Rice is a licensing officer, early childhood educator and former child care provider. She has seen all sides of the child care world and shared this knowledge with me! With lots of families looking at child care arrangements for the summer months as the end of the school year approaches, it's the perfect time to share Lisa's expertise, which was originally featured in Healthier You magazine. Check out the full issue at the end of the article. If you want more information about licensing and providing safe, quality child care, visit our Community Care Licensing site.
I started by asking Lisa a few quick-fire questions about herself!
A bit about yourself: I'm a Newfoundlander who moved to British Columbia in 1991. We lived in Bella Coola and Smithers prior to coming to Prince George in 1998. I'm an early childhood educator and have been working in different child care roles since graduating with a diploma in Early Childhood Education in 1988. I became a licensing officer in 2004. I'm married and am the mother of two sons and the grandmother of an 18-month-old granddaughter.
Favourite activities: Biking, snowshoeing, and eating healthy.
Favourite food: My green smoothies – blend banana, orange, spinach (or anything green), and peanut butter!
Favourite part of your job: Seeing the work we do pay off. We support child care settings to become structured, rich, happy, and healthy environments. I recently saw a child care space where 3-4 year olds were taking part in an election activity – it's great to see creative and inspiring things like that!
Who is your role model? If I had to choose one person, it would be my sister, who is bravely battling cancer. Beyond her, I feel like all people who are trying to live a healthy, positive lifestyle are important role models.
What is your motto? Don't sweat the small stuff.
Given Lisa's experience in all aspects of the child care world, I asked her a few questions about her work and thoughts on quality child care: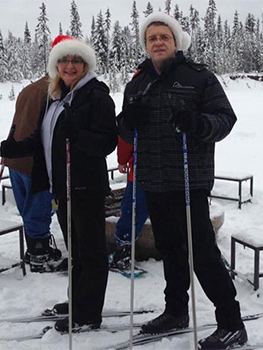 What is community care licensing?
Northern Health's Community Care Licensing program provides regulatory oversight for any facility that provides care to three or more people who aren't related to the caregiver. This includes child care spaces. Providing oversight means ensuring that care providers are meeting minimum standards to protect the health, safety, and well-being of children. Standards cover everything from staffing to hygiene, physical requirements, nutrition, playtime, and more.
Why is licensing important for safe child care?
By establishing and monitoring minimum standards, licensing lowers the risk of negative health and safety outcomes for children. As licensing officers, we represent families so that they can be assured that the care providers looking after their loved ones are following health and safety principles.
What does a day in the life of a licensing officer look like?
It can be varied! My day might include an unannounced inspection, following up on an incident or complaint, processing a licensing application, or supporting care providers through education and outreach. A lot of what I do on a daily basis is taking upstream health principles and applying them downstream, where kids and families are seeking care.
What does quality child care look like?
I look for environments that are safe, well-organized, free of hazards, and that invite children to learn and grow. Caregivers should also have open, positive relationships with a child's family.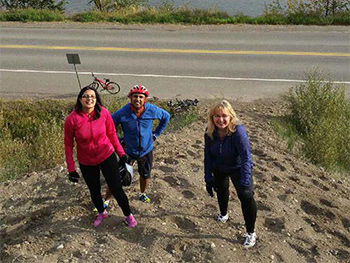 What's interesting is to see how quality child care can be a role model for families. When kids are exposed to healthy behaviours in child care, they take this home to their families. One facility, for example, started their day with all of the kids washing their hands. They later shared that many of their families had adopted this practice at home. When kids came home from daycare, the whole family would wash their hands before doing anything else!
What does a healthy community look like to a licensing officer?
For me, a healthy community models healthy behaviours. A healthy community has families that are well-versed in healthy practices like hand hygiene, healthy eating, and the importance of outdoor play. Licensed child care spaces model these behaviours and the families take these lessons out into the community.
Check out Lisa's original story and lots of other information about child health in the Summer 2016 issue of Healthier You magazine.