An innovative program in Prince Rupert for women
This article was co-authored by Justine Derksen and Janice Paterson
Scientific evidence has shown that pregnancy is a great place to evaluate cardiac risk. In Prince Rupert, Dr. Marius Pienaar, a gynecologist, has developed a screening program and software which uses the data collected during a woman's pregnancy to assess for cardiovascular risks and to coordinate referral and follow-up to prevent cardiovascular disease.
During the pregnancy, some basic measurements such as blood pressure and weight are recorded and a panel of blood tests are performed, including blood lipids and glucose. This data is then entered into the program to calculate a risk score for future cardiovascular disease. Women with elevated risk are then offered interventions, and their primary care provider is informed of this risk.
We have a golden opportunity to evaluate pregnant women with cardiovascular risk and this should not be missed. - Dr. Marius Pienaar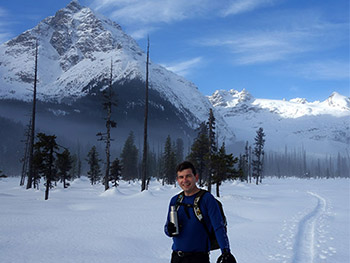 Dr. Pienaar explains that if a woman has diabetes in pregnancy, she is at a higher risk of having diabetes later in life and should be tested 6 weeks to 6 months after pregnancy. Currently, only about 20% of women are tested after pregnancy. Dr. Pienaar's new software actively follows his patients and has created a referral and reminder system where every patient can be contacted and given opportunities to attend the North Coast Maternal Health Clinic for evaluation.
Currently, Dr. Pienaar's clinic seeks to intervene by providing clinical care to at-risk women as well as offering smoking cessation resources, on-site dietitians and diabetes nurses, and more. 100% of postpartum patients who are screened and are identified as having increased risk are offered the postpartum health clinic visit. The program is expected to increase patient awareness of their own risk of cardiovascular disease and support women to access additional health care services to help reduce their risk.
I am very appreciative of the care and information I received in the North Coast Maternal Health Clinic. This program provided me with valuable information/assessment regarding future health risks. Such insight allows me to intervene early in order to improve my modifiable risk factors and ensure my future health and well-being. - Cherie Harvey-Malthus
The clinic has been a success so far and is very efficient and cost effective. Dr. Pienaar has seen success with this quality improvement project and hopes to make the program and software available across the province. There has already been interest from Fraser Health and the Lower Mainland to emulate the clinic model at other hospitals. This is the first such clinic in BC and the first rural clinic in Canada specifically geared to evaluate cardiovascular risk in postpartum patients.
Check out the full version of this article: An Innovative Program in Prince Rupert is Screening and Providing Follow-up Care for Women with Risk for CVD