I'm excited to share the creative ways that School District 91 recently celebrated their graduates. Lakes District Secondary School (Burns Lake), Nechako Valley Secondary School (Vanderhoof), and Fraser Lake Elementary Secondary School held their graduation ceremonies last weekend. Fort St. James Secondary School is hosting their event today (June 19). In light of the COVID-19 pandemic, these schools needed some creative planning to help keep everyone safe.
Planning for safe gatherings
How did organizers ensure that ceremonies were safe for students, their families, and school staff to attend? The superintendent and school principals worked with a medical health officer and environmental health officer from Northern Health to plan these events. This strong dedication to safety, planning, and partnership allowed the graduates of 2020 to celebrate and be recognized for their hard work and achievements.
Celebrating while following public health regulations
The creative planning for safe graduation ceremonies that has taken place in these communities is commendable. Measures to help prevent the spread of COVID-19 included:
Ensuring that there is not more than 50 people gathered at any given time.
Planning for physical distancing, with students and staff to be six feet apart.
Separating people in various classrooms until it is those students' turn to receive their awards.
Having smaller groups of people going through the gym in shifts.
Providing hand sanitizers to students and/or family members entering the gym.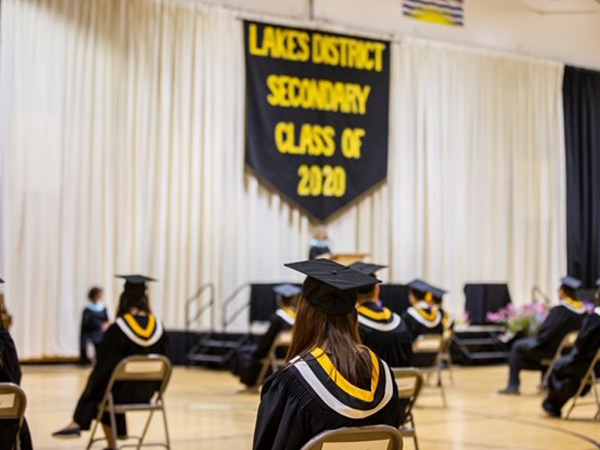 Honouring graduates in new ways
While aspects of these graduation ceremonies looked different from previous years, some things stayed the same. And in some cases, new approaches created more intimacy and deep emotions.
In smaller schools, graduates were able to observe their peers receive awards, and listen to the guest speakers' and Valedictorians' speeches.
Parents were able to walk with students across the stage to get their diplomas.
While students picked up their diplomas from a table, each graduate received acknowledgement of their accomplishments and had their plans for the future read out loud.
For some, the best part was that the ceremonies were live streamed for viewing by family and friends around the world!
Congratulations!
I am so proud of how hard these school principals, school staff, and parents have worked to plan these events. The days were special and memorable, while keeping everyone healthy and safe.