During the COVID-19 pandemic, many innovations were developed to help streamline health care and patient services. In Northern Health, we've seen virtual health care, adapting equipment for the pandemic, meeting COVID-19 milestones, and more. (Learn more about these and many more stories of Northern resilience and adaptation on the Northern Health Stories site).
Another impressive story of streamlining health care was recently recognized by the BC Provincial Blood Coordinating Office (PBCO). Starting in 2020, Northern Health began to change the way it distributes and redistributes red blood cells, which are used in transfusion, surgery, and other procedures. Before the COVID-19 pandemic, Northern Health sent red blood cell units that were due to expire to St. Paul's Hospital in Vancouver, to be used quickly by the much larger medical centre.
According to the PBCO website, "to help minimize red cell waste, the BC Provincial Blood Coordinating Office (PBCO) coordinates a Provincial Red Cell Redistribution Program. Participating small- and medium-sized hospitals send blood that is nearing its expiry date (10-14 days before expiry) to a designated large hospital where blood is more likely to be used."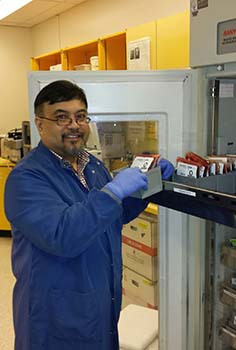 However, the COVID-19 pandemic was a catalyst for change in the way Northern Health handled and redistributed blood products. It reduced the availability of flights, which made transfers to and from the North difficult, so that Northern Health could no longer easily send blood to St. Paul's. It was Julius Valido, a quality resource technologist in Northern Health's transfusion medicine team, who found a new, sustainable solution for the better use and management of red blood cells in Northern Health.
New ways to use blood in Northern Health
Before the pandemic, it cost tens of thousands of dollars each year to transfer short-dated (soon to expire) red blood cells to St. Paul's. Knowing we could improve this system, Julius initiated a review of blood inventory in all Northern regional sites before the pandemic. This was a valuable step in understanding the history of blood use in Northern Health and how it changed during the pandemic, and helped to save hundreds of short-dated products. This blood was then able to be used in the North, instead of being destroyed because we were unable to send it to St. Paul's.
During the pandemic, when transportation was affected, a provincial team created a new process for all Northern Health regional sites to redistribute blood to the University Hospital of Northern BC (UHNBC) in Prince George via ground transport, with the cost covered by the PBCO. This team was made up of Julius, Kylah Sorenson (transfusion medicine supervisor at UHNBC), members of Kylah's staff at UHNBC, and representatives from the PBCO and St. Paul's Hospital.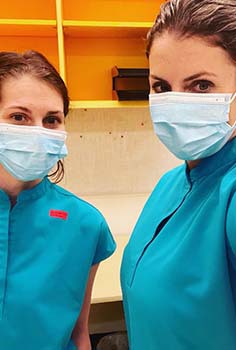 Since then, Northern Health has gone from sending 3,000-5,000 units of blood to St. Paul's each year to sending them zero. Instead, all blood in the North that's close to expiry is sent to be used at UHNBC – a massive improvement in health care, patient services, and cost.
A side benefit of this process was the creation of a Northern Health courier service throughout the North. Because of this, the PBCO has not incurred much cost for the ground transport of blood to UHNBC – an added cost savings for provincial taxpayers.
Northern Health is in the spotlight for this provincial accomplishment. This is a rare achievement: it's sometimes attained by an individual facility or site, but never (until now) by an entire health authority. As well, Northern Health is geographically the largest health authority in the province, which can lead to logistical challenges, ongoing staff shortages, and increases in workload, making the achievement all the more extraordinary.
Program is centred at the University Hospital of Northern BC in Prince George
The new Northern Health redistribution program is monitored by Kylah Sorenson, who keeps close watch over the inventory of blood products in communities throughout the North. Using this information, she guides them to ship blood that's close to its expiration date to UHNBC, with the Transfusion Services Department receiving short-dated blood from 16 other facilities across the North.
The goal of this change is to use all Northern Health's blood within Northern Health. Because UHNBC uses the most red cells in Northern Health, Kylah and her team led this new red blood cell redistribution program in the North, for the North. With all blood redistributed to UHNBC from regional sites, staff have not had to destroy any expired or short-dated blood products in over a year.
Provincial awards recognize program's success
Northern Health achieved this success by not depending on the provincial redistribution program for short-dated blood. Instead, Northern Health has become a greater steward in the use and management of red blood cells, as well as other blood products.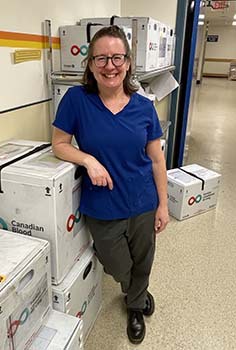 In recognition of their innovative management of the flow of blood products, Northern Health facilities and communities have received the following awards from the PCBO:
The 2020-2021 Utilization Management Award for outstanding participation as a red cell receiving site: University Hospital of Northern BC
The 2020-2021 Utilization Management Award for outstanding achievement of a zero per cent red cell expired/outdated rate:

Bulkley Valley District Hospital
Haida Gwaii Hospital and Health Centre
Northern Haida Gwaii Hospital

The 2020-2021 Provincial Factor Concentrate Redistribution Award for outstanding zero per cent health authority expiry rate of all factor products: Northern Health Authority
Congratulations to the blood transfusion teams for these awards! This redistribution program has allowed Northern Health to more effectively use precious blood products in the care of our people and communities. Thank you to Julius, Kylah, and their teams for the incredible work they're doing!