For many, dialysis can feel like a loss of independence because of the ongoing need for hospital appointments and time spent away from home. The availability of peritoneal dialysis (PD) and home hemodialysis allows many people to be involved in their daily treatments and bring back a sense of freedom to their self-management and care.
"I truly believe in the benefits of people being able to do this at home. At first it can sound complicated, but when people start training even after the first day, their anxiety goes down and they feel very proud of themselves," says Karen Walkey, Patient Care Coordinator, UHNBC Peritoneal Dialysis. "It's very doable and very learnable, and I am very proud of our patients who are willing to take this on and do such a good job with it and continue living their lives.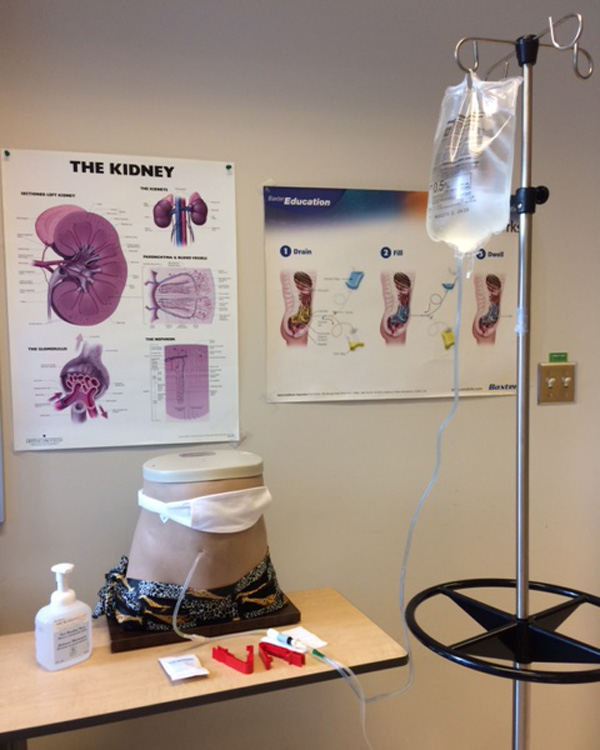 "PD is a type of dialysis that is done at home on a daily basis. It involves having a small tube in the abdomen and uses the lining of the abdomen (called the peritoneum) and a cleaning solution to clean the blood. The solution absorbs waste and fluid from blood, using the peritoneum as a filter.
There are many health and lifestyle benefits of PD that help patients combat the challenges they face living with kidney failure. PD treatments can be done in any place that is clean and dry, allowing a person more freedom to work, travel, or do other activities they enjoy without worrying about scheduling dialysis appointments. And, importantly, patients have the opportunity to improve their quality of life by participating in their care plans.
For those patients who are unable to do PD, home hemodialysis may also be an option. In hemodialysis, a machine and a special filter called a dialyzer are used to clean the blood, with the dialyzer acting as an artificial kidney. This requires having an in home hemodialysis machine.
Living outside of an area that has a dialysis unit can sometimes mean a patient having to move out of their community; with home hemodialysis, patients are able to stay in their communities and receive the treatment they need.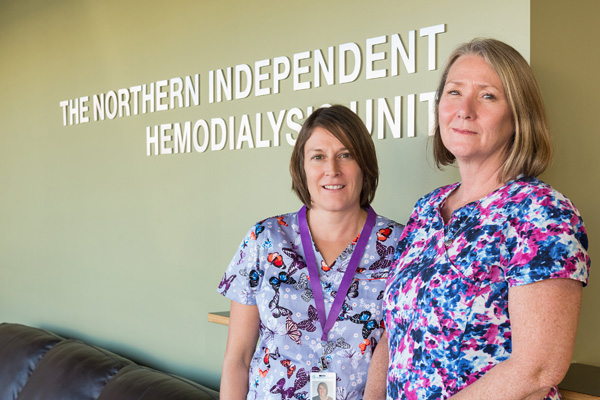 "We want to keep our patients in their communities. Instead of hemodialysis running their lives, we want to fit hemodialysis into the lives they already have," says Angela Robinson, Home Hemodialysis Educator.
Lifestyle benefits of this mobile dialysis therapy and flexible schedule allow for most patients to perform therapy while at home, at work, at school, or on vacation. Patients can spend more time with loved ones, doing the things they enjoy.
Northern Health has the highest percentage of independent hemodialysis patients in the province, with 34% of dialysis patients on PD and 13.3% on home hemodialysis. These figures are well above the suggested provincial amounts in communities such as Prince Rupert, Fort Nelson, Quesnel, Prince George, Dawson Creek, and many others in between.
For more information and resources on independent dialysis, visit the BC Renal Agency website.