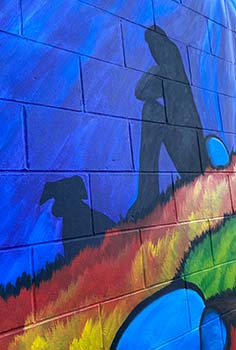 Terrace's Hospital Auxiliary Thrift Shop, which raises money for the local Mills Memorial Hospital, has a bright new look.
A colourful panoramic mural of Wesach Mountain, a popular local hike and mountain range, now spreads across three of the store's exterior walls - the front and both sides. The outdoor sign across the front of the building is also newly painted and now features a wheelchair and a stethoscope.
"We wanted something that demonstrated what we strive to do," said Terrace Hospital Auxiliary member and store volunteer Cecile Boehm.
This new paint job is one of several in town facilitated by the Skeena Salmon Arts Festival Society (SSAFS) and funded by the Terrace Downtown Improvement Area Society (TDIA). Both organizations have supported the installation of public art and the painting of several large murals throughout Terrace's downtown in the past few years.
Artist's inspiration
The artist, Amanda Stella, applied to paint the mural on the thrift shop while she was visiting Toronto this past summer. The application asked for a concept related to nature and/or something to do with the hospital.
"I was biking home and reflecting on my trip to Toronto and realized how much I missed the mountains while I was away traveling. It made me think about some of my favourite hikes," said Stella. "I've hiked up Wesach a few times so have quite a lot of photos with different angles of the mountains. I put about eight of my photos together to create the scene that I painted."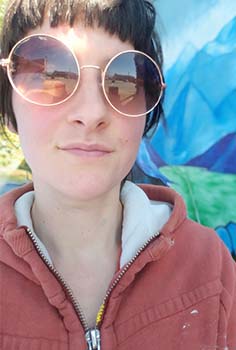 Stella, 26, is mainly a self-taught artist who works with a variety of mediums such as watercolour and acrylic paint, and pen and ink. This is the first mural of this size that she's completed. However, she's painted a couple smaller ones at Spotted Horse Nursery, where she works in the summers.
As for her personal connection to the auxiliary shop and Mills Memorial Hospital, Stella's grandma used to volunteer at the store when she was younger. "And the hospital has helped me out a lot in my own way," she said.