Eva Visscher is new to Kitimat and new to Northern Health. She joined the Northwest BC team in June 2023 as the Recruitment and Retention Ambassador for the region.  
Learn a little bit about Eva and why she's passionate about her new job and promoting careers in health care.  
Can you tell us a bit about yourself and your background? 
I'm originally from the Netherlands and I came to Canada in 2005. I graduated from the University of Alberta in 2019 with a degree in Political Science and German but struggled to find work that would allow me to use my degrees.  
When the COVID-19 pandemic hit I went back to school. I completed my certificate in Human Resources Management from the University of Alberta in March of 2023. In that same month, my partner and I packed up our lives in Edmonton and moved to Kitimat. 
As for me, a few things I love are soccer, reading classic novels, and travelling. I recently travelled to Australia and New Zealand. 
What are you most excited about your new role? 
I'm excited to work with many different people and communities. I love that I'm working with different teams in the region on how to best support recruitment and retention activities. 
What are you most excited about moving to and now living in Northwest BC?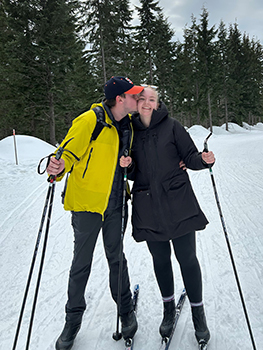 We were looking for a new adventure. We wanted to get out of the big city. We really wanted a change of scenery, to be closer to nature and spend more time outdoors. We have not been disappointed. This is such a beautiful part of British Columbia. I can't believe I'm able to see mountains from my office window! We feel completely at home. 
What are your plans to reach out and connect with community in your new role? 
Building connections with local communities is very important to me. This position is still very new, so I want to make sure I'm very visible and available for our community members. I'm currently working on sending out introduction emails to various key stakeholders and community groups, and I'm hoping to begin in person visits shortly. In-person conversations can be so impactful and meaningful, so I really want to prioritize meeting with people in person as much as possible.  
Why do you think a career in health care is worth pursuing? 
Working in health care is so rewarding. You can really make a difference in someone's life. You are supporting your community and supporting others in their journeys and empowering them. There's also so many different options and so much opportunity to grow.  
Reach out 
If you are interested in a career at Northern Health in the Northwest, check out job postings on the NH Careers website.  
If you see Eva in your community, make sure you to say hello, or email her at eva.visscher@northernhealth.ca. 
Passing the torch 
Brad Leier of Terrace initially started in the NW Recruitment and Retention Ambassador position in 2022 but moved into a different role at Northern Health. He is now the Manager of Northwest Specialized Services (Mental Health & Substance Use), Acute & Tertiary Care.  
During her first week of work, Eva spent time learning the ropes from Brad. Their paths will continue to cross going forward too, as Eva helps recruit and retain employees for the new Terrace hospital and Seven Sisters, a facility that Brad manages.