The past few weeks have been a busy and exciting time as more and more Northerners receive their COVID-19 vaccines. Learn why two long-term care residents in the Northeast chose to get vaccinated.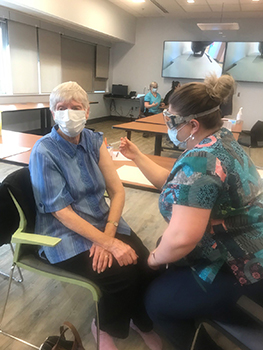 Dawson Creek
Rotary Manor resident, Jo Depellegrin (pictured above) shared, "I chose to receive the vaccine because I believe that it is a public duty to contribute to the data so that future recipients and generations can make informed decisions and educated choices to either be vaccinated or not. I'm happy to share that I didn't experience any discomfort after receiving the vaccine."
Fort St. John
Peace Villa resident, Shirley Umruh, shared, "I chose to get vaccinated so I can stay healthy and spend more years with my awesome daughter."
In the photo below, Shirley sits with her daughter Linda McKinnon who is a registered care aide at Peace Villa (Linda is part of Shirley's bubble but they're wearing masks because they are in a public area).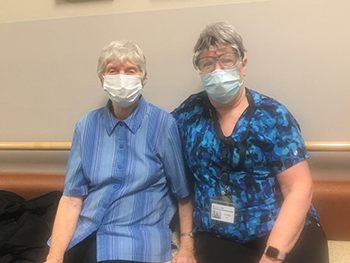 Where to find vaccine information
The best resources for information continue to be the Northern Health website's COVID-19 Vaccination Plan page, as well as local Northern Health Community Facebook groups.
Northerners are encouraged to visit the Northern Health website for details on their local appointment eligibility schedules – and to call to book COVID-19 appointments based on those dates to help the booking system operate more smoothly and ensure those who are eligible can be booked quickly and efficiently.