As the population ages, dementia with older adults is becoming more common. At Northern Health, staff are taking a proactive approach by taking education to learn more about caring for those with moderate to severe cognitive impairments.
Gentle Persuasive Approaches (GPA) teaches care teams how to use a person-centred, respectful, compassionate, and gentle persuasive approach to respond to the behaviours associated with dementia. GPA equips staff with real-life strategies, helping them remain safe and confident in how they respond to different situations.
Trainers across the region have noticed an overwhelmingly positive reaction from staff.
"The initial reaction from staff is that they love it," says Erin Murdoch, Clinical Nurse Educator for Peace Villa in Fort St John. "It's opened their eyes to recognize how important person-centered dementia care is, and to recognize why behaviors associated with dementia happen. The training has made staff more compassionate towards the residents and their families."
"The biggest change we've noticed as a result of GPA is staff attitude," says Jennifer Miller, RAI Clinical Lead and a GPA trainer based in Burns Lake. "They're more understanding and have empathy for people with dementia. Staff think about why the challenging behaviour is happening and come up with innovative solutions to manage the behaviour. The solutions are more dignified and respectful. Before, if someone had a challenging behaviour problem, sedation or restraints would be used to manage the behaviour. Now, staff are coming up with person-centred solutions to manage behaviour. It's all about us modifying our approach. Every class I've taught has commented that the training is very helpful, it helps them understand dementia better, and that they didn't know there were so many types of dementia. Overall it has brought a new awareness."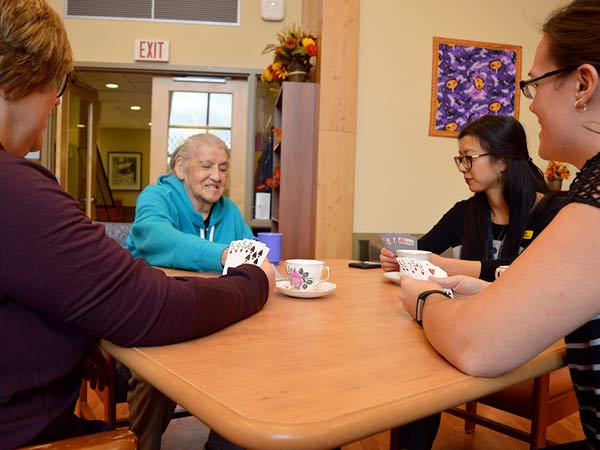 GPA is only part of Northern Health's strategy for caring for older adults.
"Our long term care homes are actively participating in DementiAbility Methods across the entire region," says Brenda. "DementiAbility Methods is a practical, evidence-based dementia care program. The program teaches care staff how to support the changing memory and thinking skills a person with dementia presents. It also teaches how to create home-like environments that best engage residents in a variety of ways to participate in activities and responsibilities that match their different needs, interests, strengths, and abilities. DementiAblitiy Methods provides assessment and care planning tools for nursing staff when problem solving difficult situations often associated with dementia care."
Both GPA and DementiAblity Methods work together like hand in glove to improve the environment, culture and, care approaches of staff so that a resident's day is the best it can be.