How dogs can help you make healthy lifestyle changes
When COVID hit, I was stuck at home all day with very little time outside and not a lot to do. So I started walking my dogs, Hudson and Taz, around my neighbourhood every day after work. It has brought me closer to my dogs, helped me get some much-needed fresh air and physical activity, and has made a crazy couple years more tolerable.
I started with shorter walks around the block, which quickly turned into longer walks through the trails behind my house. In only a short time, it became an important part of my day, and we all get a bit of exercise.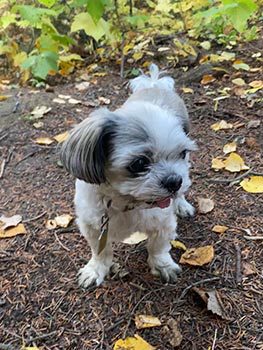 Benefits of owning a dog:
Dogs help you stay active. Taking your dog for a walk is a great way to fit daily exercise into your routine. Be mindful of your dog's fitness level – my 16-year-old dog likes to come with me, but I have to carry her once in awhile.
Having a dog is good for your mental health. They provide companionship, can help with anxiety, and simply make you happier. Nothing beats coming home to a wagging tail after a long day!
They add routine to your day, and that's good for both you and your pets. My dogs get super excited after they eat because they know it's time for a walk.
There's always something to see. I try to take my dogs to different places around town for a nice change of scenery; they enjoy exploring new places, too!
They help me be more social: I've met a handful of people around my neighbourhood who walk their dogs on the same trails.
It's never too late to make healthy lifestyle changes – no matter how big or small, it all has an impact. Summer is here, so get outside with your dogs and enjoy the outdoors this season!