Pasteurized donor human milk (PDHM) is life-saving for babies who are born prematurely. As World Prematurity Day nears, I'd like to highlight the need for breast milk donations to feed these and other fragile babies.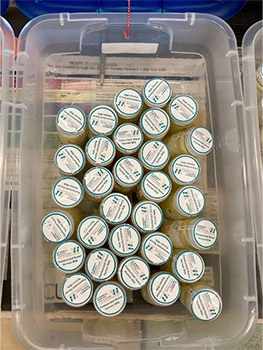 Many parents from Northern BC have donated milk via our milk collection depot at the Neonatal Intensive Care Unit (NICU) at the University Hospital of Northern British Columbia (UHNBC) in Prince George. Some have given as little as half a liter and some as much as 32 liters of milk!
We are lucky to get to use this milk in the North. If you're curious to learn more about how donated human milk goes from donor to Vancouver and back to the NICU at UHNBC, see Human milk donation: Liquid Goldie's big adventure.
Every donation is appreciated and there's always a need for more donors. For this story, I asked two Northern BC mothers about what inspired them to donate their milk.
Helping others
Stephanie Yeker became a donor after the birth of her second child.
"I saw a poster for the milk bank in our public health clinic and I was immediately interested," she says. "A friend of mine had been diagnosed with cancer while pregnant and was receiving life-saving chemo after she gave birth, so she was not able to breastfeed her son as she had hoped. With her and her baby at the forefront of my mind, I applied to be a donor that same day."
For Kory Lepage, her decision to become a donor was more personal. She didn't have an easy start to breastfeeding, but with support from others got the hang of it.
"I wanted a way to "pay it forward" for all the help we had along the way," says Kory. "I heard about the milk bank through my best friend who had previously donated and decided this was something I wanted to pursue."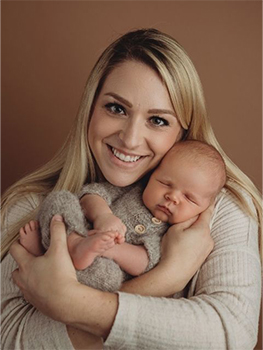 Becoming a donor
There are a few steps involved in becoming an approved donor.
Kory says, "The process was pretty smooth. I completed the online application, got bloodwork done through my family doctor, and answered some screening questions over the phone."
For Stephanie, once all the paperwork was place, she found she still had a bit to learn.
"I don't believe I donated much more than the minimum amount of milk the first time I was a donor," she says. "The staff at the milk bank had great advice on how to be clean and consistent in my milk collection, which really improved my ability to donate more milk."
She then went on to donate her milk after the birth of her third and fourth children as well.
Donating in the North
For approved donors living outside Prince George, there are a few ways to get milk to the collection depot at UHNBC. Stephanie has sent frozen milk with family members driving to Prince George. Another option is to send it via the Northern Health Connections bus. As well, UHNBC NICU staff can help approved donors with questions about the logistics of transporting milk to the depot.
Being part of a village
Though Kory and Stephanie may never meet the babies that receive their milk, they are supporting them in a unique way.
Kory says, "I hope that through donating breastmilk I can help another family through what can be a difficult journey for so many different reasons. To me, it's a way of being part of the 'village' that it takes to raise these small humans."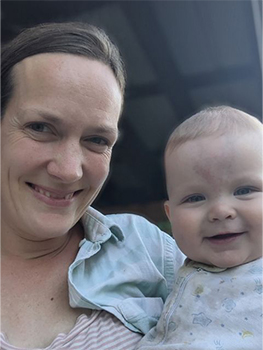 Stephanie shares similar thoughts: "My heart goes out to all the babies and their families who are born early, sick, or in any circumstance that makes the milk bank a necessary blessing. It has been a gift to collect milk for these babies, and I think of them often even though I will never meet them or know their stories."
Thank you to Stephanie and Kory for sharing your stories, and for choosing to donate your milk to the provincial milk bank!
If you're curious about milk donation, learn more at the links below