(This story was co-authored with Jen Boon, RN, Clinical Practice Lead for the NICU at UHNBC.)
May 19th is World Day of Human Milk Donation, a day to shine a spotlight on human milk donors and human milk banks. This service helps get precious milk to the most vulnerable babies, for whom it can be lifesaving.
Did you know there's a milk collection depot in the North? Approved donors can bring their milk to the depot at the University Hospital of Northern BC (UHNBC) in Prince George. From there it will travel to the provincial milk bank at the BC Women's Hospital and Health Centre for processing and distribution. We followed "Liquid Goldie," one human milk donation, on its journey from donor to baby.
Hi! I am a donation of human milk. Some people refer to me as "liquid gold" – hence my name, Liquid Goldie. I'm here to tell you all about my journey from generous donor all the way to feeding tiny or sick babies in the neonatal intensive care unit (NICU).
First, my donor pumps me and safely stores me in the freezer until she can deliver me to the local milk collection depot, the NICU at the University Hospital of Northern British Columbia (UHNBC).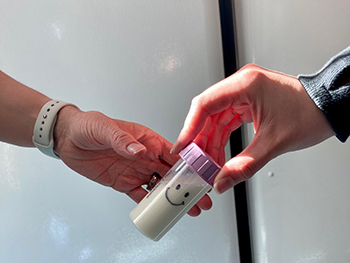 Here I go! My donor delivers me (frozen) to the local milk collection depot. A nurse checks me in, makes sure I am from an approved donor, and that all the paperwork has been done.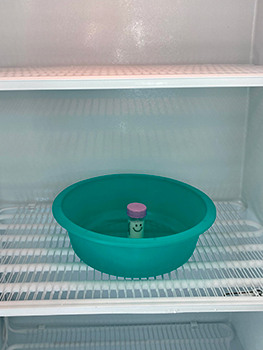 Brrrr! It's cold in here (-25 degrees Celcius to be exact)! I'll be safe in here until I am shipped away to Vancouver.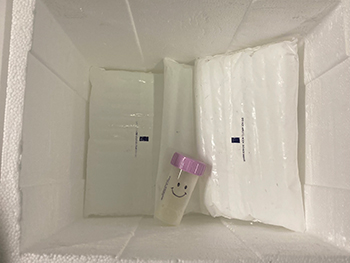 Time to go to the big city! I get placed in a cooler full of ice packs, so that I stay frozen during the truck ride there. When I arrive in Vancouver, my friends and I are all pasteurized together, then we are shipped out to NICUs across BC.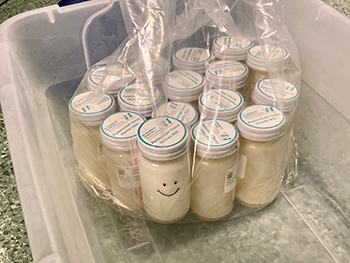 Well look who's back at UHNBC! I even brought my new friends with me and I'm in a fancy new bottle. We will wait in the freezer until it's our time to be given to a baby in need.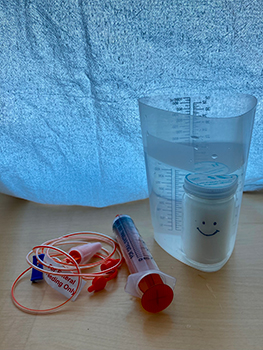 It's finally my turn! I take the plunge in a hot water bath and get nice and warm to feed the baby.
We couldn't do our part without generous donors like mine. Thanks for getting to know all about me and my story.
Interested in learning more about human milk donation? Read on: