You may have noticed that the Northern Health Travel Resource Program is going by a new name: GoHealth BC. The program has expanded and is starting to provide services to rural and remote communities all over BC.
How does GoHealth BC support NH staff in our rural and remote communities?
GoHealth BC is different from travel nursing agencies because all of the program's nurses are Northern Health employees. This means that they are paid the same as regular/full-time nurses, are part of the BC Nurse's Union, and are required to have all the same training completed prior to their first day.
I spoke with Meggan Wood, the Patient Care Coordinator at the Hospital of Haida Gwaii, and Liza Hart, the Interim Site Manager at the Stikine Health Centre in Dease Lake, to learn more about how GoHealth BC is helping to support patient care and work/life balance for regular staff in these communities.
Patient care
According to Meggan, GoHealth BC helps provide standardized provision of care, which leads to a safer environment, and less extra work.
"Having agency travel nurses coming and going is really hard because you don't know what experience/education they have or what courses are done," says Meggan. "When it's through GoHealth BC, we actually know what education and standards we're getting. It saves me so much time and the patients are getting better care that way because they know what the Northern Health expectations are, and they know how to fulfill that."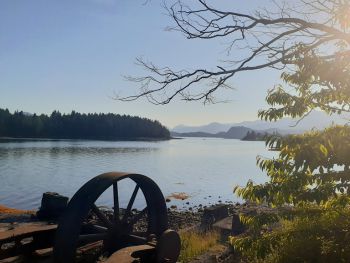 In an extremely rural and remote community like Dease Lake, having a dedicated pool of NH travel nurses is what allows the Stikine Health Center to operate.
"Our staffing is done 100% through GoHealth BC or an agency, so, our primary pool of staff come from GoHealth BC," says Liza. "When we can't fill vacancies through GoHealth BC, then we look to agency to fill that. Otherwise, this center could not run because we have no regular frontline clinical staff."
Work life balance
For Meggan, having a pool of dedicated NH travel nurses allows her to proactively see when people will be coming to the site. This allows her to be able to grant well deserved bank time off to the regular nurses, providing more flexibility with their work life balance.
"If there's an event going on, I can proactively plan for that by scheduling the NH travel nurses so that my staff can go out, and they can see that I'm prioritizing their work life balance," says Meggan. "It's helpful for retention and it's helpful for them to feel valued."
What can GoHealth BC nurses expect?
Both Liza and Meggan agree that creating a comfortable and welcoming environment for GoHealth BC nurses at the sites helps with retention. At both sites, GoHealth BC nurses are paired with a nurse on their first day and given an orientation of the building as well as safety processes.
"We have put a huge focus on housing this year, so all staff are put up in housing that is either owned or leased by Northern Health," says Liza. "We spent a lot of money this year getting the staff housing into a condition where people feel comfortable and that they look forward to coming back."
"When a GoHealth BC nurse arrives, they're paired with someone, and they're treated like a new hire that is highly knowledgeable and skilled," says Meggan. "They're just given a warm welcome. We put them in our housing, which is always really nice here."
Liza adds that "many of the NH travel nurses that come through have been here multiple times. So, although they aren't what we would call regular staff in terms of having a position here, they are really involved in making sure that colleagues who are coming for the first time are welcomed and given a good orientation and provided lots of support."
In small hospitals like the ones mentioned, everyone works together and are involved in their communities. Regular staff are happy to share information about local events going on or things to do.
"[Dease Lake] is a small community and we have lots of people who like to do outdoor stuff. There are often conversations like, "we're going to go skiing this weekend, do you want to come?"  says Liza. "Some people are into fishing, and I've heard physicians invite people to come ice fishing. I'm just really trying to help people enjoy some of the outside of work activities that can make it fun to be in a place like this."
"Everybody's young and involved in the community, and we're pretty inclusive so that we can get recruitment and people will want to stay," shares Meggan.
We're excited about how GoHealth BC is expanding to help bring more nurses to BC's rural and remote communities. To learn more, visit GoHealthBC.ca.