Summer is my season. I often joke that I was born into the wrong climate, since I really come alive in the hot summer months and play indoors during the winter. (I'm learning how to love snow!). Here in northern BC, we don't take our precious summer months for granted! As the days get longer and warmer, I prefer to spend most of my time outdoors. Whether it's going for long bike rides, picnicking with friends, or spending weekends hiking the beautiful trails around Prince George, I'm out enjoying every minute of this weather!
When being active on hot sunny days, it's important to stay hydrated. Dietitian Carly Phinney tells us why staying hydrated is important. She suggests that we listen to our body's cues for sensing thirst, and she explains that water is the best way to satisfy thirst. I couldn't agree more!  Water is budget friendly, vital for our bodies, and oh so versatile!
I recently went on a hike with some friends who brought along an interesting drink that was very refreshing. It was water, but with a twist! (Stay tuned for Vash and Nick's great summer drink recipe below). This got me thinking, what are some healthy ways to stay cool and hydrated this summer?
Add fruits and vegetables to your water; it's a great way to add some excitement to a classic beverage (think: strawberries, cucumber, berries or citrus).
Freeze your favourite fruits and eat them as frozen snacks throughout the day. Depending on the season, I like eating frozen grapes, cherries, and berries. (For the little ones, be sure to cut those grapes in half before freezing).
Make your own fruit pops for a refreshing munch.
Mash up your favourite fruits, freeze them into ice cubes, and add to cold water.
I'd like to share two recipes that I'm going to be using a lot this summer:
One of my favourite summer drinks is a classic: homemade lemonade! This lemonade recipe is lower in sugar compared to store bought varieties, and is made extra tasty by using freshly squeezed lemons!
Classic homemade lemonade:
2 tbsp. of honey
1 litre of water (regular or fizzy)
4 fresh lemons, juiced (you can use a lemon juicer or your hands)
1 lemon, sliced
A few handfuls of ice cubes (either regular ice cubes, or ones that have frozen fruit in them!)
Mint leaves as a garnish (optional)
Optional additions:
Mashed blueberries and strawberries (fresh or frozen!)
Sliced oranges and limes (creates a citrus medley!)
In a saucepan over medium heat, stir honey and ½ litre of water until completely dissolved. Remove from heat and let cool. In a pitcher, combine the rest of the water and lemon juice. Add in the honey mixture once cooled. Stir. Add sliced lemons, ice cubes, mint and fruits (if using). Enjoy!
The second recipe, as promised, is Vash and Nick's delicious thirst quencher!
Vash and Nick's famous water recipe:
1 cup of water (can be regular or fizzy)
A handful of frozen or fresh berries (whole or mashed)
A squeeze of lime juice (to taste)
A squeeze of lemon juice (to taste)
Vash adds chia seeds for a refreshing crunch, but this is completely optional!
Let the water sit for a minute or two (bring it with you on a walk or hike), or store in the fridge for a few hours to let it really cool down. Enjoy!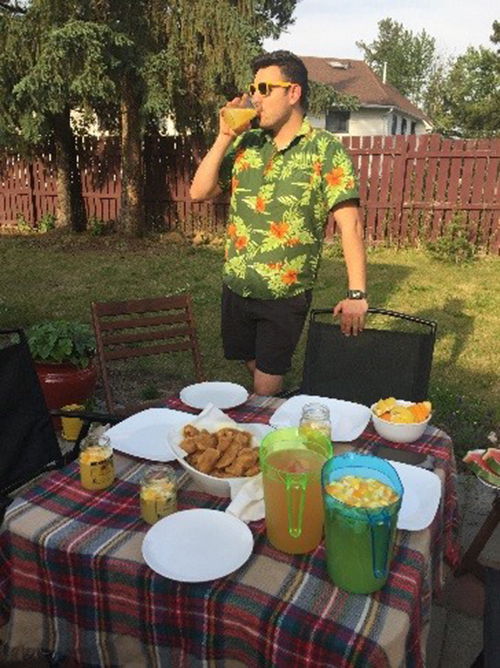 Different takes on Vash and Nick's water:
Mash up strawberries and mint
Cut up cubes of watermelon and add basil
Slice lemons, limes and oranges (for a citrus twist!)
Add some fruit-filled ice cubes
Looking for more information on healthy drinks?
Creating some fun recipes at home can help support healthy options, and get family and friends involved. What are some ways that you stay hydrated and cool during the summer?