The activity of picking berries is good for mind, body and spirit
I am thankful to live on the beautiful traditional lands of the Tsimshian people. Recently, on a lovely morning when the water was calm and the sun was out, I departed for an adventure in my kayak. Because I went alone, I made sure someone knew where I was, picked a spot that wasn't too remote, and brought safety supplies along. Part way along my journey, I stopped and picked two buckets of high bush cranberries. Although it was a bit of a juggling act to kayak back without spilling them, it was well worth the effort. I came home and looked through my wild plant books to make sure I had indeed picked cranberries, not some poisonous imposter. There are some excellent books available as well as reputable online sources, like this Edible Berries of BC guide. You can also seek guidance from an experienced picker or an Elder. When you aren't sure, don't eat it.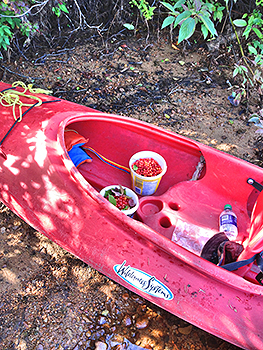 I embarked on the quest of deciding what to do with my berries. While I am quite familiar with making jam, I haven't made jelly before. Since these cranberries have a significant seed in the centre, I decided to strain them out. I looked up how to do this and began navigating my way. It was trial and error as I was trying to blend the old and the new…recipes without pectin against those with pectin. So I'll be honest with you, while I haven't mastered the art of making wild cranberry jelly yet, here is what I learned. This is part of the adventure itself, to experiment and make something delicious! Next time I would just strain the berries and drink the juice!
Gathering berries has been an important activity, food and medicinal source for First Nations and Aboriginal peoples for thousands of years. Cranberries are known for their medicinal benefits, such as anti-bacterial properties that can help prevent urinary tract infections. They are also high in antioxidants that help boost the immune system and they are a source of vitamin C. For more information on traditional foods, access the First Nations Traditional Foods Fact Sheets from the First Nations Health Authority.
The activity of picking berries is good for my mind, body and spirit. Being out in nature is healing for me. When I am having a tough time for one reason or another, being in nature helps to restore me to balance. I also enjoy being self-reliant. Berry picking can also be a family activity. When my children were young it was a great way to get them out and active.
Remember to leave some berries for other people and animals to eat, and be careful not to damage the plants so there can be future harvests.
High Bush Cranberry Jelly
Ingredients:
2 small buckets of cranberries
4 cups of water
4 ½ cups sugar
1 ¼ boxes of Certo light
Instructions:
Boil cranberries with water for 10 minutes.
Make a cheesecloth bag and place inside a strainer inside a bowl. I used elastic bands to hold my cheesecloth in place.
Let the juice drip out overnight. I got about 7 cups of juice. If you have less pour some hot water through the berries to get more. I squeezed my bag, but if you want a clear liquid you aren't supposed to!
Sterilize the jars and metal lids. I put them in the oven at 225 degrees for 10 minutes.
Put snap lids in water that is hot but not boiling.
Mix Certo with a ¼ cup of sugar. Stir into juice. Bring to a boil. Add rest of sugar and bring to a rolling boil for 1 minute.
Test mixture for the right consistency by putting some on a spoon and letting cool in the fridge. If it firms and then falls off the spoon in one 'flake' it's done, otherwise boil it longer.
Pour into hot jars, wipe rims with a clean cloth dipped in the water the lids are in, put on snap lids and metal lids and tighten.
If the lid pops down, it's sealed.
Enjoy with turkey on fried bread!