Recently, the Food Costing in BC Report was released for 2022. No surprise: The cost of healthy eating was high at the time of data collection (May-June 2022) and it is likely higher now.
In the North, we have unique experiences with food access. I wondered what Northerners might think of the Food Costing in BC Report and what questions they might have, so I decided to ask. I also asked the opinions of the data collectors who volunteered to gather information on the costs of food throughout our region.
What does 'healthy eating' mean in this report?
The National Nutritious Food Basket is a list of foods made to represent Canada's food guide and includes 61 basic foods commonly eaten by Canadians. The list is not a prescription, but a tool used to make comparisons of food costs across the country over time. Healthy eating looks different for everyone, and some families may find they spend more (or even less) than the report estimates.
A community member provided some thoughts about this list of food: "There are necessities that I buy in my weekly shopping that aren't included on this list, like cat food and cleaning supplies. Dietary restrictions in my family also mean that sometimes I'm buying more expensive alternatives. It makes sense to have a basic list of healthy foods for comparison, but we must understand it's not the full picture for families."
So, what is the cost of healthy eating across the North?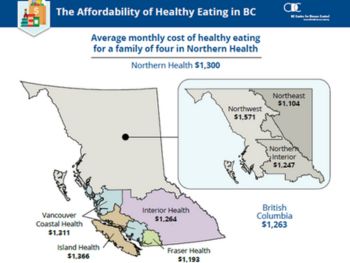 Interestingly, the report suggests that Northern BC has both the highest and the lowest food costs in the province. Due to random sampling, the stores chosen to be surveyed in the Northeast were all chain stores in larger centres. This likely affected the cost estimate.
A volunteer from Northeast BC reflects on living in the area with the lowest food costs: "I think people will be surprised to learn that the lowest costs in BC are in the Northeast, as everyone is feeling the pinch at the grocery stores these days. A lot of households in the Northeast, especially those who live in smaller towns, have high food bills that can be hard to manage."
What about rural and remote communities in the North?
The small food stores commonly found in rural and remote communities often do not carry the full list of the National Nutritious Food Basket items and were not able to be included in the provincial food costing. A supplemental report from the BCCDC, expected later this year, will highlight stories of food access and climate change in a selection of remote Indigenous and non-Indigenous communities in BC.
People living in rural or remote Indigenous or non-Indigenous communities likely have more geographic and financial challenges to food access than those living in larger centres.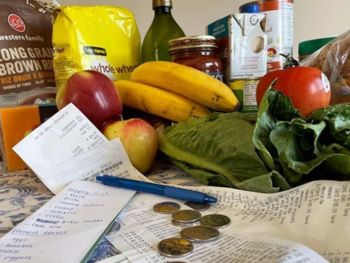 One data collector, living in a remote area of the North, reflected on the barriers she sees to food access in her community: "I'm fortunate that I can travel five hours round trip to shop at a big chain store. I do have a vehicle, but gas and maintenance are expensive, and my wages are not high. I still support the local stores when I can, as these businesses are a necessity to our community. Not everyone has the luxury of travelling to buy essentials, including our elders and seniors who are on fixed incomes. It's also not easy to fish and hunt for traditional foods."
The high costs of healthy eating impact each household differently
The 2022 report looks at the affordability of healthy eating, by comparing the food costs across five different income scenarios. Our community members with the lowest incomes are hit the hardest.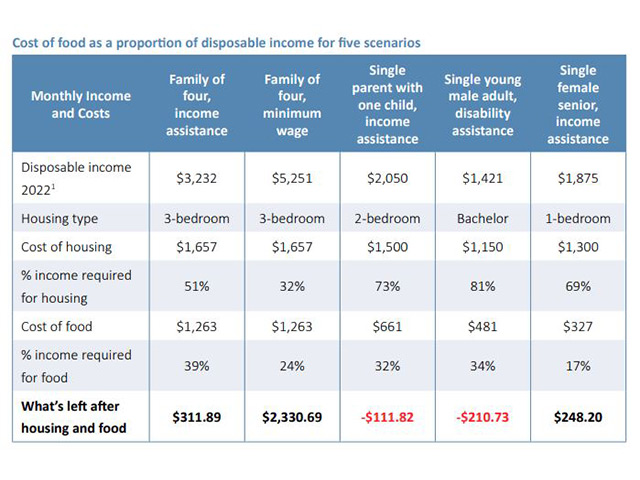 A former NH dietetic student and data collector shared  that "there has been an influx of new clients to the emergency food programs (e.g. food banks) where I live. With the rising costs of living, folks receiving income assistance or working for minimum wage cannot make ends meet anymore and they need food relief. Many people who already access these programs are forced to make more sacrifices and difficult financial decisions."
Why do we monitor food costs?
All British Columbians have the right to a healthy diet that is meaningful and sustainable. Food banks and other short-term interventions are important, but they do not affect the root cause of household food insecurity and its physical and mental health impacts. More than the cost of healthy eating, we consider its affordability. Minimum wage and social incomes don't allow many families to buy healthy food and to live healthy lives. The Food Costing Report is one tool that helps us assess the affordability of healthy living and can be used to advocate for income-based solutions to food insecurity.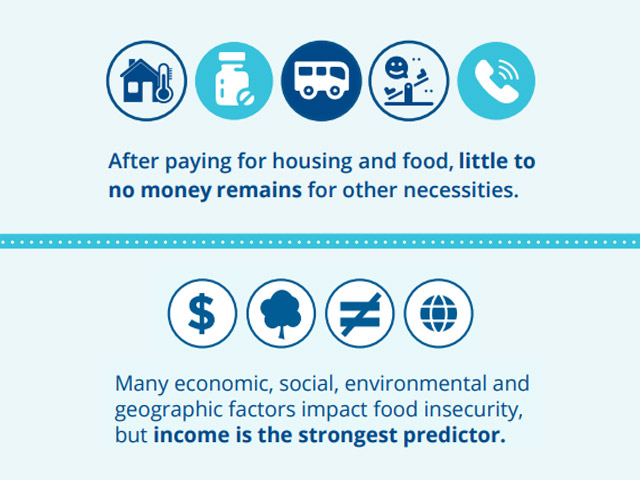 Related NH Stories: