Spirituality connects us to something bigger than ourselves. This connection can help us feel peace and gratitude, supporting our emotional well-being. When our world seems small due to actions to limit the spread of COVID-19, that connection may be welcome.
Diversity in practice
Spirituality can look different for each of us. It may come from being part of a faith community, such as a church, mosque, synagogue, or temple. It may be a personal relationship with a higher power, or it might be through connections to nature or art. It may involve prayer (for oneself, others, the world), mindfulness, journaling, or helping others.
With physical distancing measures in place, many spiritual groups and organizations are using technology to help people feel connected, both personally and spiritually.
Spirituality meets innovation
In Prince George, some yoga and fitness studios are offering online class options.
"For me, yoga is a mental and spiritual practice – the physical benefits are a perk!" says Haylee from Prince George. "When I practice, it's a time for me to be mindful and reflect on how I want to show up in the world. I'm thankful my yoga studio has been offering online Zoom classes. It's been really nice to see the other members and stay connected that way."
In Terrace, one local faith group is changing how they offer regular services and prayer gatherings.
"I've set up a prayer corner in my home and this is where I attend the live streamed masses from my church," says Linda from Terrace. "While it's not the same as being at mass in person, I appreciate the opportunity to share virtual space with fellow parishioners and practice my faith."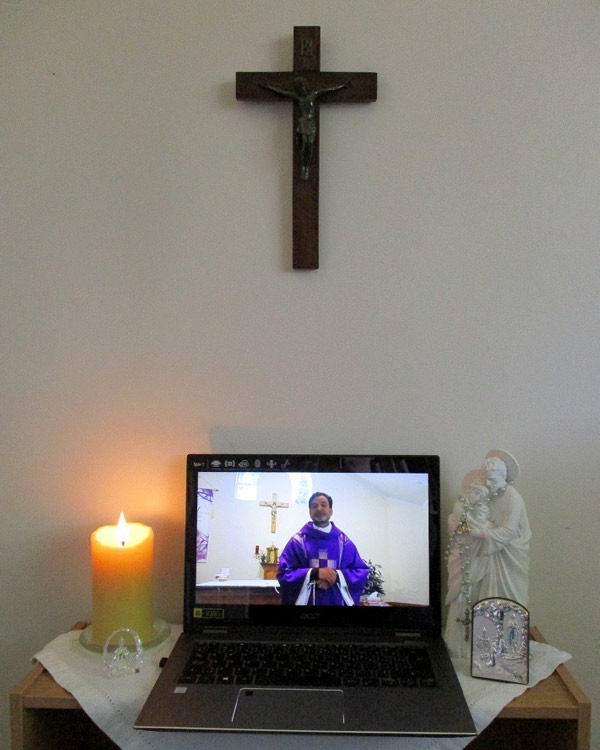 Other faith groups have created group chats or Facebook groups to stay connected.
Staying connected while staying apart
I've also heard about groups that are focused on service in action, such as phone trees to check on house-bound seniors, and running errands for those who need help with groceries or other essentials.
And still others are using this time for self-reflection and personal growth. That might include spiritual reading, videos, playlists, or podcasts, solitary walks in nature, meditation, gratitude journaling, and so much more.
Taking care of your spiritual well-being
The path to spiritual well-being is yours to decide. How have you adapted your practices at this time?