My husband and I recently enjoyed this savoury soup after a chilly day of outdoor activities. I love it because it's a great way for us to get a healthy serving of veggies – plus, there's just something so comforting about a hot bowl of soup!
It's also dairy-free, and if you use vegetable broth, the soup can be vegan. For meat-eaters, adding shrimp, fish, or chicken is an option. And because you can make it in advance, I've found it also works well for potlucks.
If you use the curry powder recommended below, the flavour will be relatively gentle. I prefer offering a milder curry unless I'm 100% sure that everyone likes it hot. Those who want to spice things up can always add a dollop of hot sauce.
Modified from a recipe at Savory Lotus
Makes 4-5 large servings, 6-8 small ones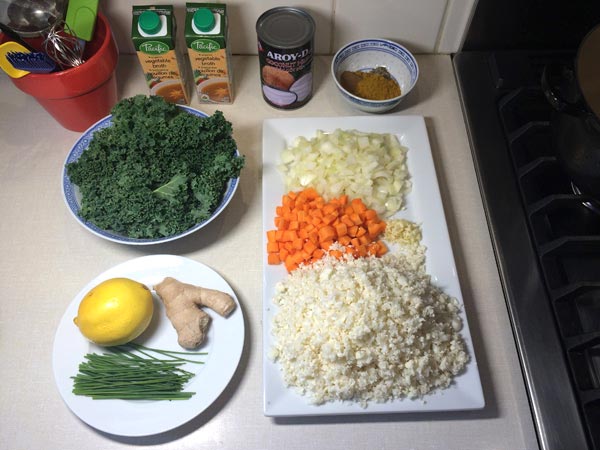 Ingredients
For the soup:
3 Tbsp Madras curry powder (I like Sun Brand)
1 tsp ground cumin seeds
¼ tsp black pepper
2 Tbsp coconut oil
1 small onion, finely chopped
2-3 cloves of garlic, minced
1 small head cauliflower, blended or processed into a rice-like texture (detailed instructions below) – a total of 3-4 cups "riced"
3 medium carrots, peeled and diced
A 2-inch piece of fresh ginger, peeled and grated
4-5 cups broth (bone broth or vegetable broth). If using bone broth, I recommend chicken or turkey – beef would overpower the flavours in this dish
2 or 3 large leaves of kale, ribs removed, leaves torn into 2 or 3 large pieces each
1 cup full fat coconut milk. I prefer brands made of only coconut extract and water – no guar gum or carrageenan -- but this is just a personal preference. If your coconut milk has guar gum or carrageenan, the recipe will still be fine.
2 Tbsp fresh lemon juice
Salt to taste
For the garnish:
In the well-known vegetarian cookbook My New Roots, author Sarah Britton advises that almost any dish can be improved by the addition of three things: minced fresh herbs, grated citrus peel (lemon, lime, or orange), and toasted nuts or seeds. I've taken that advice to heart here; to garnish, you'll need:
About a ¼ cup minced chives
Grated peel of ½ a lemon
¼ cup toasted pumpkin seeds or
toasted almond slices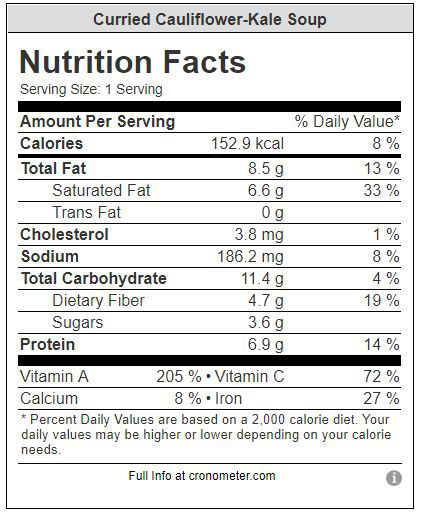 Method
Peel and chop the onion, garlic, and carrot and set aside, keeping them separate – you'll need them at different points in the recipe.
Stir the curry powder, ground cumin, and pepper together in a small bowl and set aside.
Wash the cauliflower and discard the woody stem. Chop the florets into large chunks, then pulse in small batches in a blender or food processor until you achieve a rice-like texture. Repeat until all the cauliflower is riced.
Grate the ginger and set aside.
Heat the coconut oil in a large pot over low-medium heat.
Add the onion and cook slowly, stirring often, until it's translucent and just starting to brown. This will take 10 – 15 mins.
Add the garlic and spices and cook for 30 seconds to "bloom" the curry powder. Stir constantly – burnt garlic will harm the flavour.
Add the riced cauliflower, chopped carrots, and grated ginger. Stir well to coat them with the spice-onion-garlic mixture.
Add the 3 cups broth and stir well.
Bring to a boil, then simmer until the carrots and cauliflower are tender, about 10 minutes.
Add the kale (don't chop it), cover the pot again, and simmer for about 7 more minutes until it's cooked – you may need to push the kale leaves down into the soup. Leaving the kale unchopped makes it easier to scoop out for the next step.
Scoop out the cooked kale leaves, plus about 1/3 of the remaining soup, and pulse briefly a few times in the blender or food processor until the kale leaves are chopped into small pieces (but not pureed).
Add the mixture back into your soup pot and stir.
Add the coconut milk and lemon juice and stir well.
Simmer for 5 minutes to blend the flavours, then add salt to taste.
Just before serving, stir in the lemon peel and sprinkle with the chives and toasted nuts or seeds.
Have hot sauce available for anyone who likes a bolder flavour.