On October 12-14, 2023, the 5th Northern Perinatal Conference was held in Prince George. Attended by physicians, midwives, nurses, community health representatives, and other allied health support workers from across BC, the two-day event, led by Northern Health perinatal leadership and supported by a planning committee with members from across BC, followed the theme of "Championing change together, collaborating for sustainable perinatal care". 
Plenary, concurrent, and panel sessions allowed participants to develop knowledge and skills around team-based care, prenatal education, gender diversity, rural maternity support programs, collaborative primary care maternity clinics, perinatal mental health and substance use, the baby-friendly initiative, prevention of preterm birth, staffing innovation, community engagement, and hands on simulation.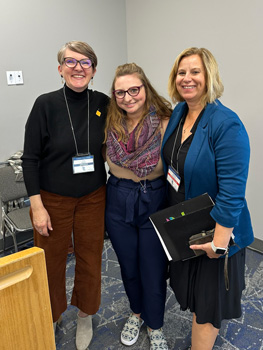 An evening perinatal Indigenous learning circle supported by First Nations and Métis elders who shared their stories and experiences of pregnancy, birthing, and postpartum provided connection and learning, as well as the opportunity for participants to deepen their understanding of cultural humility and safety. A panel discussion on Indigenous perinatal care reinforced these learnings.  
Positive feedback from attendees at the Northern Perinatal Conference included appreciation for opportunities to learn new initiatives, make new connections, and learn from each other. 
"It was a great opportunity to connect with provincial partners who are all so passionate about perinatal care and have desires to share their great work for the betterment of all," said Jenny Nijhoff, Regional Perinatal Manager, Island Health. "Congratulations to the organizing team for an amazing conference at a very accessible rate. The diversity of topics and quality of speakers and sessions was wonderful." 
The conference funding was collaboratively supported by Northern Health, moreOB, Perinatal Services BC, First Nations Health Authority, Rural Coordination Center of BC, BC Women's Hospital, Provincial Health Services Authority, Tourism PG, and the Northern Rural Continuing Medical Education Program.  
Congratulations to the Northern Health perinatal leadership team, the planning committee, all the facilitators, and the generous sponsors for collaborating in the success of the 5th Northern Perinatal Conference!