March is Pharmacy Appreciation Month, and we're celebrating the pharmacists, technicians, assistants, and administrative staff that serve across our Northern Health region. Pharmacy professionals do so much more than supply medications to patients. Allow us to introduce you to a couple of Northern Health's finest and their contributions to the pharmacy field!
Committed to the team and the community where she was raised
Carly Rosger graduated from the pharmacy program at UBC in 2009. She began her career in community pharmacy and later moved to hospital pharmacy in 2012, after the loss of her first son Niko. Carly truly loves her clinical work at Bulkley Valley District Hospital (BVDH) and Wrinch Memorial Hospital, because she gets to be part of a dynamic, supportive team of pharmacists, technicians, nurses, doctors, lab techs, and support staff. "Being a small site, we really get to know each other," says Carly.
Carly is a third generation Smithereen, has close ties to the community and a deep respect for the beautiful place she calls home. She says, "it's these deep roots that keep me committed to our people."
"It's the chaos, humour, and variety of challenges that keep me engaged," she says, as she discussed how NH Pharmacy has evolved over the 10 years that she's been in her role. "Having Laura and I working together, at times, really makes it an enjoyable experience and our lunch time walks help me hash out the interesting stuff."
Carly spends her precious spare time going for walks, helping with her son's school, or skiing/snowboarding with her family. Her house is busy with their 9-year-old Theo and 3-year-old Anna.
"I'm so thankful for my husband Nick and all his domestic abilities that run our home front (my kids remind me often that I should leave the egg cooking to Daddy)," says Carly, "and my family's understanding when I come home beat after an overwhelming day."
Building skills in patient care, while supporting pharmacy in long-term care
Laura Fyten is also a pharmacist at BVDH and has been involved in pharmacist coverage for long-term care facilities, which began about a year ago.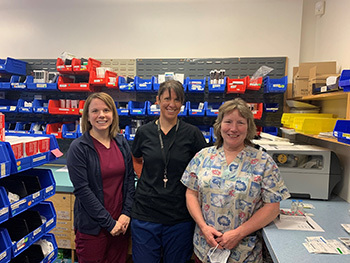 "Being involved in this has been vastly rewarding in countless ways, including developing my patient care skills and becoming a Board Certified Geriatric Pharmacist," says Laura. "I was very close with my grandparents, which translated into an affinity for the elderly and heading this direction in my career."
There are two NH initiatives that are forefront in Laura's practice: appropriate use of antipsychotics and antibiotic stewardship relating to urinary tract infections.
"I am proud to be part of the long-term care pharmacists who have done remarkable work in improving medication therapy," says Laura. "The biggest reward for me is watching a person regain quality of life after resolving these drug therapy problems."
Smithers is a unique community with activities an outdoor enthusiast can only dream of. She has added snowshoeing and paddle boarding to the list of things she enjoys since moving to Smithers, and continues to ride her horses, go fishing, and hike.
"Travelling is also a big part of my life and I am looking forward to doing that again soon," she says.
Making significant impacts in patient care
Jennifer Tran, Kelly Sache, Dinah Draxel, Nicole Sander, and Delaney Elliott are some of the pharmacy technicians and assistants that hold down the fort in Smithers. This group has made a significant impact on patient care in the North and the broader pharmacy team is very grateful for their support on a daily basis! Here's what they had to say about their work and life in Smithers.
"I've been in pharmacy for almost 20 years now and have gained fantastic friends in my career. In my spare time, I like to dance, do yoga, and spend time with my husband and two wonderful kids." – Jennifer Tran, Pharmacy Technician
"Never a dull moment in pharmacy! Always something new to learn. I entered pharmacy in my forties and am glad to be part of the wonderful patient care and teamwork that goes beyond just our hospital. I like hunting, quadding, sledding and most anything that gets me out in nature. I love music, motorcycles, and spending quality time with my husband and animals. " - Dinah Draxel, Pharmacy Technician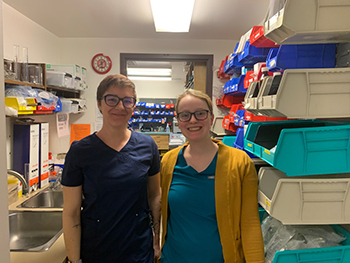 "I started working in pharmacy in high school. I received my technician certificate in 2010 and started at the BVDH pharmacy soon after. I've remained as a casual since which has allowed me the wonderful flexibility of spending tons of time with my family, on my fitness pursuits, hobbies and travel." – Nicole Sander, Pharmacy Assistant
"I have been in pharmacy for four years and a registered tech since August 2022. After I graduated high school I was very sure I wanted to be an elementary school teacher, but pharmacy fell into my lap and I've been with it ever since, and I am so happy I am! In my spare time I love to go to the gym, dance, and spend time with my soon to be husband and my family." -Delaney Elliott, Pharmacy Technician.
Northern Health celebrates the dynamic pharmacy teams and hard-working staff across the region, who provide such high-quality care for our Northern residents!