March is Pharmacy Appreciation Month, and we are celebrating the pharmacists, technicians, assistants, and administrative staff that serve across our Northern Health region. Pharmacy professionals do so much more than supply medications to patients. Allow us to introduce you to a couple of Northern Health's finest and their contributions to the pharmacy field!
Putting pharmacy research into medical practice
Aron Nenninger is one of the clinical pharmacists in Terrace. He splits his time between his role as a clinical pharmacist at the Mills Memorial Hospital and acting as an academic detailing pharmacist with the BC Provincial Academic Detailing (PAD) service. PAD is a service that provides accredited continuing medical education sessions on selected drug therapy topics to clinicians.
Aron translates medical evidence into practical use for medical professionals, using skills of critical appraisal. He identifies knowledge gaps of prescribers and discusses how medical evidence can assist better decision making on a day-to-day basis.  The academic detailing model, focused on individual or small group discussions tailored to participant need, is known to be one of the most impactful forms of medical education.
Aron supports pharmacists, physicians, nurses, and health care students to better understand how medications can benefit patients and support informed, shared decision-making.
Standardizing regional practice for compound preparation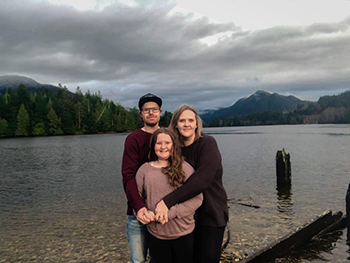 Corie-Anne Defelice is a pharmacy technician in Prince Rupert. She began her career with Northern Health in 2011 in Dawson Creek, before moving to Kamloops and gaining her registration in 2015. She worked as a pharmacy technician at Costco until her return to the North, when she rejoined Northern Health in January 2020, shortly before the start of the pandemic.
"One day, I just felt like I need to get out there and shake my life a bit. I had a brief stint with Northern Health in 2011 and I liked the work environment. So, I said why not and brought the whole family back up North. I applied to the job in Prince Rupert and have been eternally grateful for this choice. My husband Aaron found a great job here and my daughter Zoey is fully entrenched in dance here."
In December 2021, Corie-Anne became the Northwest sterile compounding coordinator. She works to maintain pharmacy compliance with the legislated standards required to compound hazardous and non-hazardous sterile preparations. She provides direct operational support and works collaboratively with pharmacy managers, pharmacy technician supervisors, and other sterile compounding coordinators to implement regional standards.
In addition to her duties as a dance mom, she enjoys reading, golfing, and walking the beautiful waterfront in Prince Rupert.