When talking with new health care workers, Lena Hjorth has good advice: meet the people and find out who they are. New health care workers would do well to take her advice - after living with and serving the people of the Nazko Nation and the surrounding area as a Community Health Representative for 50 years, she speaks from experience.
"When I first started my job it used to be just me at the health centre. I made the appointments, arranged travel and was even the janitor. I liked it when the doctor or nurse would come," says Lena.
Many changes have made providing health care easier over the years, some very basic.
"When I first started, we didn't have phones. When the doctor or nurse would come, I had to go around to all the houses to tell the people that the doctor was here," says Lena. "If I wanted to make a phone call, I had to drive to the store to a pay phone and put quarters in to make a call. It was neat when we got a phone."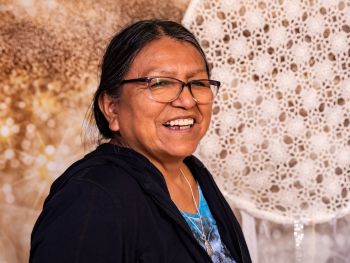 Lena's hard work and open-hearted attitude have helped to support her long career in health and to establish her as a favourite colleague and a valued member of the health care team. Many doctors have come and gone over the years, but Lena has stayed. She raised her family in Nazko – 8 children and step-children, eighteen grandkids, and 6 great-grandbabies. As a member of the community, Lena bridges the gap between new doctors and nurses and the people they serve.
"When new nurses come, I introduce them to the people," says Lena. "I show them where everyone lives and even draw them a map."
Lena's career was celebrated by colleagues, friends and family in Nazko in April, and family has always played a vital role in Lena's career. It was Lena's Auntie Jonah who suggested community health as a route for her, and whose role as CHR she took over when her aunt retired. Lena had considered nursing, but community health allowed her to have a broad impact, helping and holding her community through crisis and investing in their health education.
"They don't want to let me go," says Lena, whose visits with Elders can last hours. "I take their vital signs, blood sugar testing and I translate for them with their doctors' appointments."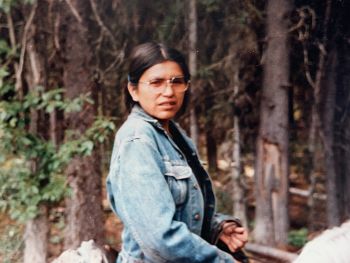 By supporting community in health visits and providing language translation for Dakelh speakers, she has improved access to care for many in her community. She has also worked a lot with kids. 
"I would go to the school and bring my shampoo and combs to help the kids with head lice," says Lena. "After school, the kids would walk to the health centre and I would help them… and teach them how to brush their teeth. I had vitamins to give out to people who needed them. I helped people who needed to take pills for TB – they would come to the health centre every day to take their pills."
Over the years, Lena's care in the community extended far beyond the daylight hours: "Sometimes there would be emergencies in the middle of the night and people would call or come wake me up to help. I remember a community member was having a baby at home and her family came and got me at the ranch. By the time I got there she had her baby and they were both ok. Sometimes when an ambulance was called I would go see community members until the ambulance or Nazko stage came to take them to the hospital."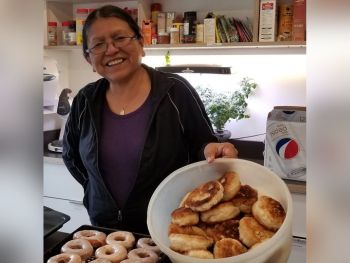 Knowing her community and being known to them, making health care available to them and being available to them herself were some of the ways that Lena has lived a generous and people-centred life in community health.
Lyndsey Rhea, the Indigenous Care Coordinator at GR Baker Memorial Hospital, says that "Lena has been an amazing support not only to community members, but a great mentor and advocate for Health Care Workers who visit and work with the Nazko community. When I started in my role 12 years ago, Lena welcomed me with open arms and has been a huge support to me ever since."
"The relationships between the health system and communities are invaluable and we could not do the work that we do without them," says Lyndsey, who. has a huge appreciation for the impact that Lena has had in the region, highlighting the role Lena has played in connecting community to health care.
Lena's commitment to care and community are a testament to her skill and dedication as a health care worker. It's with gratitude that we celebrate her service.