For me, one of the blessings of this pandemic is that it's forced me to stay local and explore my own beautiful Northern BC backyard. Our region has so much to offer when it comes to playing outdoors! Like many, my partner and I opted to stay close to home when taking our summer holidays. Where did we go, you ask? The Bowron Lakes canoe circuit!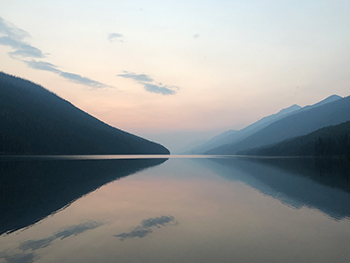 First time Bowron-ers
Have you ever canoed the Bowron Lake circuit? If you said no, I was in the same boat (pun intended). I have heard of the canoe circuit and wanted to try it out myself. The pandemic gave us that opportunity, as bookings were more available due to international tourism being closed. Boy, was it an adventure! From Prince George we drove 3 hours south to the Bowron Lake Provincial Park near Quesnel, and that's when the fun began!
Starting the circuit
Checking in at the parks entrance (you need to make a reservation), we started off with our canoe full and our arms and legs fresh. On the first day we covered just over two lakes and completed three portages. It was intense.
Just keep on paddling
Starting out on Isaac Lake on day two, we learned very quickly that the lake was very long! Lucky for us, the forces of nature smiled down upon us and we enjoyed blue skies, sunshine, and the faintest breeze. It was halfway down Isaac that I caught my first lake trout! To any angling enthusiasts out there – I highly recommend bringing a rod.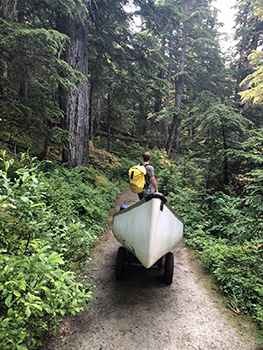 Mother Nature's might
That night, as we camped at the end of Isaac, we were treated to nature's theatre in the form of a wicked thunderstorm. Thanks to the mountains that surround the lakes, the lake valley became an echo chamber. The thunder was as loud as a gunshot! One camper in the morning informed me that he'd seen a tree struck and on fire when he got up in the middle of the night to check out the storm. Mother Nature sure is mighty!
River adventures and furry friends from afar
Day three included navigating the Isaac and Caribou rivers, and was our favourite leg of the trip. Neither of us had river paddled before. As the leisurely current carried us down the Caribou River, we were treated to the sight of a large black bear on the bank (he was the perfect distance away for me – far!). We passed through the most beautiful terrain and gave our now-tired arms some reprieve. If there's one phrase I said during our trip at least a thousand times, it was, "this is soooo beautiful!"
The Westward stretch
Days four and five were spent navigating the smaller lakes in the circuit and completing the homeward stretch. Thankfully the portages in this section were short and sweet! Highlights included checking out the impressive Caribou Falls near Unna Lake, and seeing not one, but four beautiful moose along the Caribou River and Babcock Lake section. On our last day, we were treated to a wildfire aircraft show! When paddling along the final stretch on Bowron Lake, water bomber planes flew right beside us picking up load after load of water. Shout out to our stellar BC Wildfire service!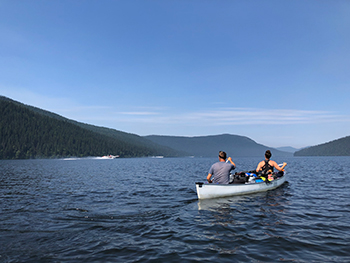 My trip takeaways
Canoeing the Bowron Lake circuit was one of the most physically challenging yet out-of-this-world beautiful trips I've ever done. Being unplugged for a week in the Caribou backcountry did wonders for my wellbeing and made me appreciate where I live that much more. If you're interested in making the trek yourselves, here are a few random trip tips:
Take a paddling lesson before you go: both my partner and I are novice paddlers and taking a lesson beforehand helped increase our confidence. I'd also recommend strength training your arms and back before you go – your muscles will get a big workout during the trip! 
Pack light: only 60lbs of gear is permitted in your canoe when portaging. Everything else must be carried on your back, plus some of the portages are long – bring a comfortable backpack!
Be prepared for all weather: although we were blessed with optimal sunny weather in early July, we had full rain gear with us just in case. It's also important to make sure all your gear is in waterproof bags and vessels. Gamma lid buckets are your friends!
Take your time, and enjoy the paddle: if I were to do it again, I'd paddle at a much more leisurely pace. We had some 8 hour paddling days and it was intense! I'd recommend camping for 6-7 nights to take it all in. It's truly a beautiful place!
Is the Bowron Lake circuit now on your trip list?
Canoeing the full circuit was tough, but I'd do it again. Is there a paddling trip in Northern BC that you recommend? Let me know in the comments below!
Oh and one final trip tip – stop at the A&W at the Quesnel/Barkerville highway junction on your way back home. After a week of backcountry camping, it will be the best tasting burger of your life.