Northern Health's Northwest Administrative Office has joined the list of buildings in downtown Terrace showcasing the work of a regional artist.
Three panels custom-designed by Gitxsan artist Michelle Stoney, each 11 feet wide and three feet tall, are now featured on the front and sides of the building at the corner of Sparks and Lazelle. To ensure the artworks are also visible when it's dark, the panels are backlit.
The theme of the pieces is one of Northern Health's strategic priorities, "Healthy People in Healthy Communities."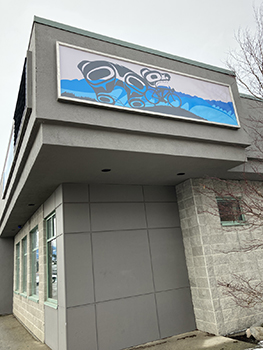 Each panel showcases a different outdoor activity and a different Northwest BC community, represented by an iconic landscape. Each also includes an animal: the panel featuring a bear showcases Terrace and mountain biking; another highlights Hazelton and hiking, and includes an eagle; and the third panel depicts Prince Rupert, kayaking, and a whale.
"I like having landscapes represent communities," said Michelle. "I also wanted to pick animals that are often seen in the region."
As for choosing which activities to represent, she said, "These are activities that everyone can do. They get you out in nature. They help you explore our wonderful surroundings and appreciate what we have around here."
To support this initiative, Northern Health worked in partnership with the Skeena Salmon Arts Festival Society (SSAFS), a non-profit organization dedicated to increasing public art in Terrace.
"We were very excited for the opportunity to display the artwork of a prominent Northwest BC artist on our administrative office," said Ciro Panessa, Northern Health's Chief Operating Officer for the Northwest Health Service Delivery Area. "It has been a great experience."
"We're very impressed with Michelle's concept and finished pieces, and how she tied a Northern Health strategic priority to the people, animals and landscapes of the Northwest," he added. "The art enhances the building and captures the spirit of the Northwest. Personally, I find it inspiring and grounding."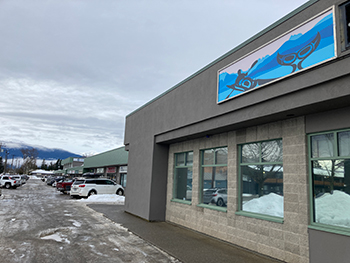 The SSAFS is credited with a number of striking art pieces which have appeared throughout downtown Terrace in the past few years. Most noticeable are colourful murals that cover entire exterior walls of large buildings, and in some cases, the entire building. Most of the murals were designed and painted by regional artists; some are collaborations between Indigenous and non-Indigenous artists from the area.
"Public art and Indigenous art are so important for our community and region, and the people in it," said SSAFS Chair David Gordon. "Art fosters conversation. It can give a feeling of safety and belonging, representation and visibility. Art gives us a chance to celebrate where we live and who we are. It also has a major impact on visitors. People see these murals, this art, and think 'wow'."
David said that artists from throughout North America responded to the call for proposals for this project, but Stoney's concept and style was the best fit.
Next time you're in downtown Terrace, take a look. You won't be disappointed!