Jessie King presented her PhD thesis on November 10 as part of an event attended by 1,500 people from around the world.
The Prince George resident, a member of the Raven Clan of the Tsimshian First Nation, was attending the 11th annual Decolonizing Conference hosted by the Centre for Integrative Anti-Racism Studies at the Ontario Institute for Studies in Education.
The conference, entitled "Dialoguing and Living Well Together: Decolonization and Insurgent Voices," was at the University of Toronto, which is located on the traditional territories of the Huron-Wendat, Petun, Seneca, and the Mississaugas of the Credit River.
Decolonizing has been described as speaking out against and reframing "the ongoing colonialism and colonial mentalities that permeate education, media, government policies, and 'commonsense'."[1]
Decolonizing and Deconstructing First Nations Identity
Jessie, who works in Northern Health's Indigenous Health department as the Lead, Research and Community Engagement, entitled her thesis "Niit nüüyu gwa'a: Decolonizing and Deconstructing First Nations Identity." The first part of the title is Sm'algyax for "This is who I am." She chose this title to acknowledge the ten-year intensive exploration of her identity that has taught her to keep questioning and talking about Indigenous identities. For her identity, specifically, Jessie looks to her personal experiences growing up learning about her Tsimshian culture, social interactions that were both positive and negative, and the most recent and ongoing conflict with identity as defined within the Indian Act.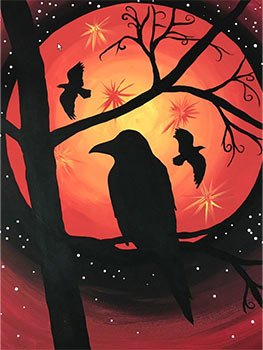 Her work looks at how the social, personal, and legal components of First Nations identity influence how someone thinks of their identity. It's important to discuss and interrogate the intersection of where these parts of First Nations identity interact and create conflict, not only for First Nations People, but equally for those who are curious to know more.
Jessie's thesis, which she'll formally defend early in 2019, discusses issues of identity in an Indigenous context. Some questions she examines include: "Does how you disclose your identity change based on different situations and your perceived level of safety?" and "What are the implications of status on your identity?"
Jessie built her thesis on a foundation of research that she carried out for her master's degree. At that time, she talked to women who'd lost status by "marrying out" – in other words, by marrying a man without Status as defined in the Indian Act.
"This whole concept of status being based on your proximity to men with status is problematic," Jessie says. "To have such an important part of your legal identity defined by the men in your life is difficult for me coming from a matrilineal society."
She continued the work into her PhD thesis partly at the urging of the women she spoke with, who she prefers to describe as "co-researchers," rather than "research subjects."
"Several of these women asked me to keep the conversation going and keep creating that space," she says. "We're moving forward together."
In the course of the interviews, people would interpret their identities much more precisely, she says, because they were in that space.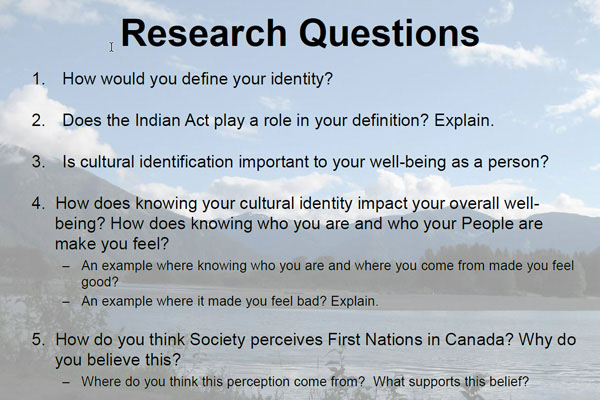 Understanding identity
For her co-researchers, being part of Jessie's research was a positive experience overall: "Just being here right now, this is healing" said one woman. It's essential to create space for these conversations to happen in safe spaces without fearing what others will think of you based on where you are in your journey to understanding identity. Jessie's work is about acknowledging where people are in their understanding and honouring their stories by privileging their voice.
"The intent was to open up that space," said Jessie. "Not many people feel safe to talk about their identity in the open, because of judgments, misunderstanding, or how an interaction will change because someone finds out who you are."
A concrete example of the contradictions inherent in Indigenous identity involves a specific spot where Jessie fishes with her family. Beyond a certain point on that river, four important men in Jessie's life – her two sons, husband, and father – are not legally allowed to fish: Her husband and father, because they are not Indigenous; and her two boys, because Jessie is unable to transmit her status to them after marrying their father. This is the current law according to the Indian Act: After two generations of "marrying out," mothers lose the ability to transmit status to their children, and subsequently, membership to their ancestral communities.
A divide between people
Jessie and her mother, on the other hand, are free to fish and practice certain rights. Jessie notes that according to researcher Pam Palmater, this sort of restriction creates "a divide between different ways of knowing who we are -- a divide between people." It's a divide she anticipates having to explain to her two young sons one day when their curiosity shifts to who they are and why it's in conflict with a system that defines them differently from their Tsimshian mother and grandmother.
"It's still something I struggle with, that divide within families," Jessie says. "My boys will never be able to fish beyond that boundary. I do this work in preparation for explaining this to them when they're old enough to ask."
Jessie claims this is problematic "because the Indian Act has been conflated with personal identity, which it is not, but it does impact your idea of self when it is in conflict with who you are and who your family is." She continues, "Be what you were meant to be and do what you were meant to do, not what the Indian Act determines!"
Jessie reports that her presentation was well received in Toronto, and that she found it valuable to share her thoughts and her research with people – both Indigenous and non-Indigenous -- from many different countries.
[1][https://intercontinentalcry.org/what-is-decolonization-and-why-does-it-matter/, accessed December 5, 2018