Editor's note: Please note that this article was started prior to the COVID-19 pandemic. Policies and activities in NH facilities have since changed; please check with local administration if you have any questions.
Earlier this year, Charla Brazeau, Primary Care Nurse, along with Penny Harrison, Nursing Assistant, and the Chetwynd Primary Care Inter-professional Team (IPT) posed a question to seniors at Surerus Place: "If you could give one piece of advice to the younger generation, what would it be?"
The results: spectacular!
I recently sat down with Charla to chat about how this activity came to be and what the impact was on residents and staff.
What made you think of this project?
I actually saw it on another Facebook post from overseas – I thought it would be so great to have this for our seniors.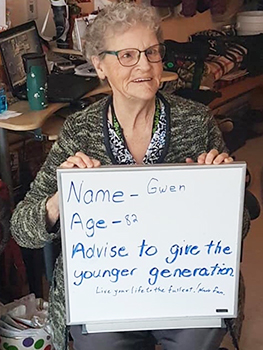 What do you think are the benefits of activities like these for participants?
These kind of activities are really engaging for them. It's a lot of fun trying to think up and give advice to younger generations. It's also nice for them to have someone sit down and listen to what they have to say. Sometimes it's easy for them to feel "hidden," but they like to be heard!
Spending the time with them to come up with advice was a lot of fun for me. Each of them are super funny characters with a wealth of advice.
The residents also love having their picture taken, so that was another special part for them.
Is there any one piece of advice that resonates with you?
One piece that stuck with me was to be gentler. I think everyone could be kinder and gentler when speaking with the older generation. They might learn a thing or two.
The runner up: talk instead of text!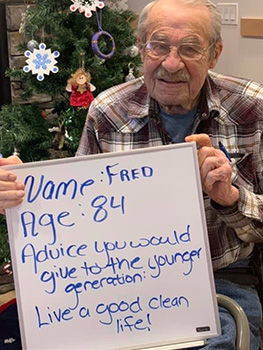 Are there any more projects with the seniors planned?
We do have an adult away program, where a community worker drives elders at Surerus Place to different locations. We play board games, do crafts and paint – there's always something going on!
Sometimes our residents can feel isolated, so we do our best to make sure they are able to socialize and be together.
Thank you to Charla for being such a bright part of Surerus Place and sharing these awesome photos with us!