May 9 to 15 is National Nursing Week! The Canadian Nurses Association developed this year's theme, #WeAnswerTheCall, which celebrates and shows appreciation for how nurses responded to the COVID-19 pandemic in every health care setting and community to support patients, families, and colleagues. International Nurses Day (May 12) also takes place this week: it's the 202nd anniversary of the birth of Florence Nightingale, the founder of modern nursing.
Northern Health's 2,655 nurses have definitely answered the call! They've taken on new roles and embraced challenges, and they continue to support patients, families, and one another through this time.
To celebrate National Nursing Week, we've interviewed several nurses about their experiences in the profession. In this story, we talk to Megan McKellar, a registered nurse (RN) in Fort Nelson, and Jo Connors, a licensed practical nurse (LPN) in Fort St. James.

Tell us about your role
Megan McKellar, RN, Patient Services Manager and Clinical Educator, Fort Nelson General Hospital.
"I started as a new grad nurse in my hometown of Fort Nelson. There was a need for a patient care manager, and I saw it as an opportunity to provide a voice for and support the nurses on the floor, and inspire progressive change in our hospital. The role I'm currently in looks after staffing, patient case management, workplace health and safety, training and education, advocating for and supporting patients and families, and working with the interdisciplinary team to achieve quality care for our town."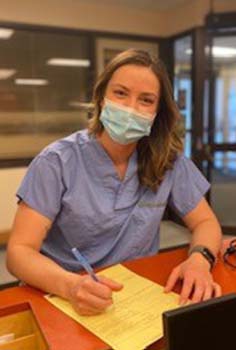 Jo Connors, LPN, Primary Care Nurse, Fort St. James Health Centre.
"I was a home support supervisor for quite a long time, but when the COVID-19 pandemic hit, I started providing direct care and I realized I missed patient care. Now in my role as a primary care nurse, I provide immunizations including COVID-19 vaccines, as well as wound care, diabetic education, outreach to vulnerable and at-risk populations, and soon we're going to start visiting high schools once a month to support the kids there. In this role, you can never write a script. It's always going to change, and it's exciting!"
What is your biggest takeaway from the COVID-19 pandemic? What did you learn about yourself and your team?
Megan McKellar
"I think that the way that we've had to support each other, we showed up when we were needed. There was a huge increase in workload, the demand for nurses grew as patients became sicker, and ever-changing policies and procedures were mentally draining. The public was also frustrated with changes to Public Health orders and isolation, and we felt a lot of that impact in the hospital. So, we didn't just physically support each other, we also supported each other mentally and emotionally as much as we could."
Jo Connors
"The biggest thing I've taken out of it is to just take life day by day. I was worried a lot at the beginning, and in the end, it taught me a lot of patience and a lot of grounding. I saw just how much it was affecting my coworkers; you could tell everybody was a little bit different. So now, I feel like I've had practice. I've learned to be patient. I've learned to go with the flow, to take everything day by day, and to live in the moment, and I've seen that in my coworkers as well. Nurses are amazing; everyone in health care is. We've all adapted for the better."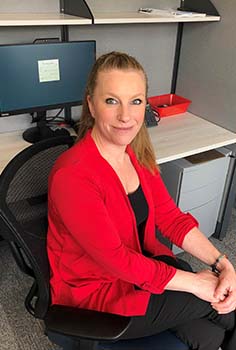 What is something you wish everyone knew about nursing?
Megan McKellar
"I wish that people knew more about what nurses do, how much critical thinking goes into our job, and how many things we're thinking or doing all at once. I think the impression generally from the public is that we bring people water and bathe people. It is also our job to know a patient's bloodwork, medications, bowel movements, eating habits, sleep patterns, moods, living situation, medical history, allergies, likes and dislikes, how they mobilize, all while planning and coordinating care and transfers. We also need to know how an intervention or a treatment the doctor orders might influence these things … and sometimes, we do this for more than 30 people at a time. We care so much! Nurses play a big role in the health care team, especially in a rural setting, where we wear many different hats."
Jo Connors
"When the hard work and the blood, sweat, and tears you put into people's care turns out for the best, it's the most rewarding thing. When something really good happens for a patient, especially when it's a difficult care plan or a wound that you've been trying to heal for months, it's so great to see them breathe a sigh of relief … it's just a rewarding profession."
Thank you, Megan, Jo, and all of Northern Health's nurses for your service during National Nursing Week and beyond!