Amidst the flurry of COVID-19 information lately, a good news story from earlier in 2020 has emerged in Dawson Creek with the addition of two new permanent long-term care (LTC) beds at Rotary Manor.
Before COVID, management and staff searched for a creative solution to reduce the waitlist of community residents and patients admitted from Dawson Creek and District Hospital (DCDH) to Rotary Manor. In early 2020, leadership and staff got together to determine the possibility of increasing the number of permanent LTC beds. They considered space within Rotary Manor that met the standard specifications for resident bedrooms and identified two under-utilized rooms that could be converted with some minor renovations, including installing a ceiling lift.
"Even though Rotary Manor is a reasonably new facility initially built in 2002 and tower building added in 2009, over time there were two rooms that were not well used for their original purpose," says Angela De Smit, Northeast Chief Operating Officer.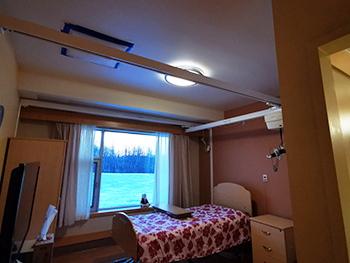 Staff members' proposal to create two additional resident bedrooms was approved, and the beds were set up just before March 2020 when Northern Health started to work earnestly to reduce the occupancy rate at the DCDH to be able to prepare for COVID-19. The LTC bed placement team admitted the next two patients from the waitlist and immediately transferred them into the new beds at Rotary Manor.
One of Northern Health's values is Innovation. A big thanks goes out to the entire team in Dawson Creek for finding an innovative solution to help increase the number of LTC beds available in that community.