Patient care is a priority, and little things matter. Kristen Gogag, a Primary Care Assistant at the Terrace Health Unit, and her colleague Hayley Lessard, Health Unit Aide, recently reorganized the storage room at the Terrace Health Unit, combining three storage rooms into one.
The reorganization reflects Northern Health's new integrated approach. "We're no longer Adult Mental Health, Home and Community Care, and Public Health. We're all as one, integrated into one department called Community Health," says Gogag. "So all the supplies we order are for everyone."
The integrated practice that the storage room now reflects has also resulted in improved patient care. The extra space gives nurses room to fill baskets or bins with supplies needed for client visits ahead of time. "There's no searching – it's faster service for clients," says Gogag.
As well, items that are used the most often, such as catheters and dressings, are stored where they're easy to find, also resulting in faster service for clients. Additionally, everything is stored with the oldest items (closest to expiry) at the front of the shelves, to ensure supplies are used in time and not wasted.
"It's been an absolutely amazing thing for our staff," says Gogag. "Nurses love it – it's easier for them to take a look at what we have in stock. It looks clean, it's clutter-free, and it's easier to maintain. It's also so much easier to train people. I can tell them an item's on the second A cart, 2nd shelf, and they can go right there and find it."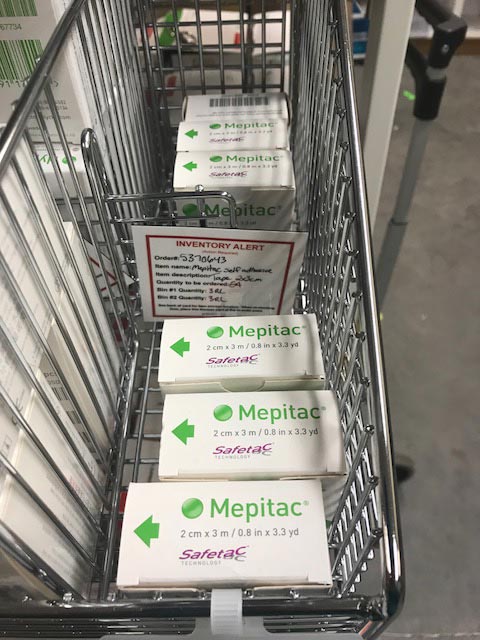 There have also been cost savings: Gogag notes that there has been a significant decrease in the amount of supplies they order.
"We used to have double orders and there would be massive overstock," she says. "Some stock items would be stored in two different places, but now it's all organized."
One of the old storage rooms, which she describes as a former "dumping ground," is now a large office for all the health care workers, and they love it, says Gogag. "They now have enough space. Now our staff room is for everyone -- it makes us want to have coffee together," she says.
The reorganization was facilitated by Marcia Bertschi, a Quality Improvement Advisor at Northern Health's regional offices in Prince George. It was based on the "Kanban" system developed in Japanese industry, which features cards and other visual cues to organization and ordering.