School food programs support all students with eating, learning and being well. Thanks to the dedication of school staff, volunteers, and communities we have many amazing school food programs in the North! They range from breakfast programs to cold and hot lunches, salad bars, snack programs, and local foods-to-school programs.
Did you know that school food programs offer many benefits to students and families?
School food programs:
Ensure students are fed and ready to learn
Help students learn about food, culture, and food skills
Promote physical health, mental wellness, and positive relationships with food
Save families time and money
Support local farmers, economies, and community connectedness
Support social connection and eating together
"One of the best things about school lunch is that my kid might be exposed and more willing to try foods at school than he is at home! When he's eating a meal together with his classmates, he sees what others are eating. This gives him a new perspective and helps to build his comfort with different foods. Eating together is also a powerful form of community, and I love that my kid and his schoolmates are all offered a nutritious breakfast and lunch regardless of income or other stigmatizing criteria." - Anna, RN, Terrace, BC
The "Great Big Crunch" campaign raises awareness for school food programs across BC and Canada
During March, the Coalition for Healthy School Food will be hosting the annual "Great Big Crunch" campaign to celebrate healthy food at school and highlight the need for a universal school food program for Canada. They are inviting teachers, students, parents, and community members to show their enthusiasm by collectively crunching into apples (or other crunchy produce) and sharing on social media using the hashtag #GreatBigCrunch.
What would a universal school food program look like?
School food programs look different for each community; however, a universal program would be offered to all students in a school, regardless of family income or background. This helps remove shame and stigma that is associated with many targeted, needs-based school food programs. A universal school food model for Canada would help more Northern students benefit from accessing nutritious and culturally appropriate food at school.
"Universal school lunch covers so many needs at once. Because it meets my personal need, as a mother, to have any sort of practical help with the immense challenge of raising a child from infancy to adulthood. It keeps my kid nourished. A universal school lunch also means every kid is nourished the same, like there's equality about that. So, it is fundamentally egalitarian." - Mother (Quote from Research and Policy Brief on Universal School Food for BC)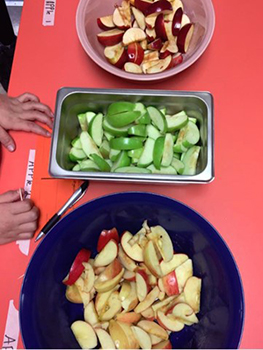 There are many ways to participate in the "Great Big Crunch" to show your support:
Register your crunch online so that your school or organization is counted in the grant total of crunches across Canada. You can host an event anytime in March, at your school, office, home, or online.

Share your crunches on social media. You can take a photo or video of your crunch and share it on social media using the hashtag #GreatBigCrunch.

Celebrate with a fun food literacy activity in your classroom. Check out this online activity toolkit for engaging, curriculum-linked lessons for children of all ages. It also includes a certificate of participation that you can print out for your students.

Register for a Virtual Great Big Crunch event on March 9 at 10am PT. Join the Coalition for Healthy School Food, along with other schools and food enthusiasts across Canada for a crunch countdown and fun activities.
To learn more, visit: Great Big Crunch - Coalition for Healthy School Food Canada  
Are you planning to participate in the Great Big Crunch this year as an individual, school, or community? Share your experiences or photos with the hashtag #GreatBigCrunch.