March and April are unpredictable months for adventuring in Northern BC. Some years the ice fishing and snowmobiling are the best of the season in March, and sometimes it's best to keep off the lakes because of rotten ice, and off the slopes when there are avalanche warnings.
Stuart Lake, the 90-km-long waterway on which Fort St. James sits in Nak'azdli territory, can be a wilderness paradise or a risk-filled journey, depending on the weather, season, your own preparation, and experience. Right now it's as beautiful as can be, but warnings to stay off the ice should be taken seriously, especially if you don't know the area well.
"With the warmer weather, the ice on the lake is melting quickly! It is not safe to go out onto the lake at this time," warns the district website.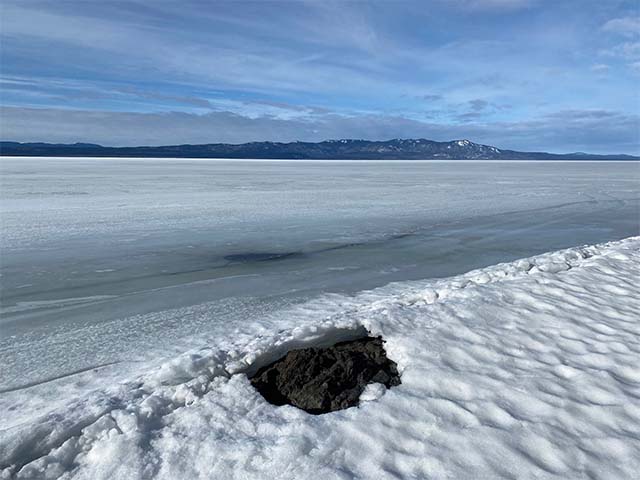 Plan ahead and assess your risk
Ice fishing enthusiasts will have varying opinions on how thick the ice is and whether or not it's safe, but the consequences of falling through rotten ice are dire. Not wearing life jackets, cold water immersion, and drinking while boating are the greatest threats to boaters in summer months. In the winter months, cold water immersion is the killer. According to the Red Cross's 10-year study on drownings in Canada, "an average of 200 people per year die as a result of cold water immersion and more than half of these deaths occur during recreational activities."
Falling through the ice can be avoided by staying off the ice at this time of year, especially near rivers and creeks where the ice is thin. Knowing the areas well and watching weather updates can also help keep you safer. Some lakes have traversable ice well into May, but on Stuart Lake, the unseasonable weather has resulted in thin patches and open water. Keeping to the shoreline during the shoulder season, or walking one of Fort St. James's many trails may be the best options for the moment.
For more information and tips on how to stay safe in spring check out these resources: