Six things you might not know about Northern Health dietitians
As a profession, dietitians are often misunderstood to be the kale-eating and dessert-shaming food police – but that just isn't the case! To celebrate Dietitian's Day, I asked my registered dietitian colleagues what else people might be surprised to know about the dietitians in our region.
Not all dietitians work in clinical settings
Many Northern Health (NH) staff interact with dietitians in hospital and long-term care settings. Dietitians can also be found providing nutrition care with diverse teams of care providers and clinical staff. However, not all dietitians work on the frontline.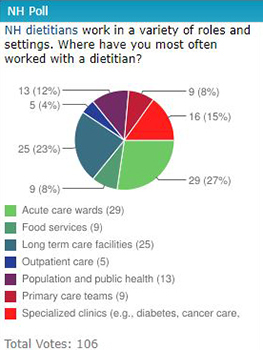 "Some people are surprised to learn that some dietitians don't work directly with patients. I am a dietitian who works behind the scenes to improve health outcomes for our communities. We work alongside other NH colleagues and provincial partners to promote appropriate nutrition messaging, guidance, and education in a wide variety of programs." - Lise L., Population Health Dietitian, Terrace
"In my current role, I'm fortunate to support work that improves the quality of health care services. In this work, I bring my clinical and operational 'know-how' to the table with quality improvement science – it's challenging and rewarding!" - Carly P., Quality Improvement Facilitator, Prince George
NH Dietitians value the bigger picture of healthy eating
Dietitians understand that healthy eating is about more than just nutrition and that there are many factors that affect how people eat. These factors extend beyond individual food choices, and include availability and affordability of food, as well as culture and traditions.
"In my role, I challenge weight bias and stigma, which show up in how we think about food, bodies, and health. The truth is health can exist in diverse bodies and body size is not a reliable indicator of how one moves or eats, or how healthy someone is." - Flo S., Chief Population Health Dietitian, Terrace
"I focus on improving quality of life by supporting clients and colleagues to focus on eating behaviours they can enjoy and sustain, and that contribute to their mental and physical well-being. Often, this means adding on, versus taking away – e.g., adding a high fibre topping rather than removing a favourite cereal because it's lower in fibre." - Tanis M., Primary Care Dietitian
"It is important to be aware of my patient's experiences at home. Sometimes, the basic renal diet isn't possible due to limited access to fresh foods, so we brainstorm together other ways to promote healthy eating in their contexts." - Olivier Y., Clinical Dietitian in Renal Services, Prince George
NH Dietitians lead innovative projects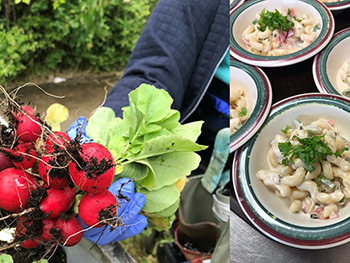 Across the Northern region, dietitians use their creativity, knowledge, and experience to provide client-centered nutrition care and to promote healthy eating in our communities. In some NH facilities, dietitians innovate by connecting patients and residents with food in meaningful ways.
"I help 'unlock the potential of food' through our on-site garden, where I help residents living in long-term care to grow their own food. This has been a highlight of my career." - Erin B., Clinical Dietitian in Long-Term Care, Prince George
"I love looking to new ideas to provide and improve quality care. Recently, I supported a new policy for using on-site garden produce in daily meals and snacks. This involved a huge team of people, from many departments in Northern Health. Now those that access NH for care may just get garden fresh produce in their meals!" - Robyn T., Clinical Dietitian, Vanderhoof
NH Dietitians never stop learning
There are specific education and training requirements to be a registered dietitian. In NH, many dietitians go above and beyond by pursuing additional training, certifications, or graduate studies.
"Becoming a Certified Diabetes Educator allowed me to provide specialized diabetes management support to my clients. I've been working with individuals with diabetes for over 15 years and it's very rewarding to use my experience as a dietitian to help people learn to manage their condition." - Carmen M., Diabetes Educator, Fort St John
"I recently completed my Master of Public Health from University of Waterloo. I gained a variety of skills related to program and policy planning, implementation, and evaluation, but some of my biggest learnings in my career so far have come from connecting and learning from communities." - Emilia M., Population Health Dietitian, Terrace
NH Dietitians are team players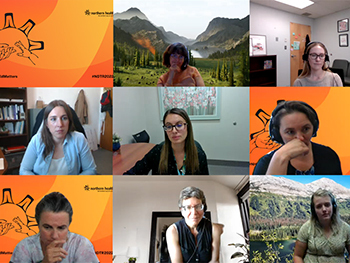 From Haida Gwaii to Dawson Creek and in many communities in between, NH dietitians work together and with other health professionals, to build on our values of quality patient care, health equity, and professional growth.
"I work as the only dietitian in a rural community, which means my job is incredibly varied day-to-day! Thankfully, I can stay connected with the rest of the NH dietitians virtually and contribute to the learning of others. For example, I recently co-presented to our Anti-Racism Community of Practice and am a part of the Houston Rural Pulmonary Rehabilitation Program with a team of other healthcare professionals." - Hannah Z., Primary Care RD, Smithers
NH Dietitians support learning for dietetic students and new health professionals
NH dietitians are proud to host several dietetic students every year in their practicum placements. To support connections to nutrition and dietetics, we also make time to orient students and new professionals in other fields, such as nursing, medicine, and social work.
"As a dietetics student, I have had the amazing opportunity to work in various clinical settings. It is inspiring to see the important role that dietitians take on to help patients manage their symptoms and improve their quality of life through the food they eat." - Tanaz P., UBC Dietetics Student, Prince George
"The thing I am most proud of in my career so far is training and mentoring UBC dietetics students and dietitians new to the profession. Many of the amazing dietitians I work alongside today originally came to NH as students and new grads; I am honoured to have been part of their transition to practice." - Courtenay H., Chief Clinical Dietitian at the University Hospital of Northern BC, Prince George  
NH dietitians take on a lot of different roles, work on diverse teams, and support each other as we learn, teach, and innovate in the field of nutrition. I want to extend a "Happy National Dietitian's Day!" to my dietitian colleagues and a big thank-you to those who shared their experiences for this post. 
Resources