Have your say about new hospitals and more when you register for Let's Talk Northern Health!
Health care is something that affects everyone. All of us, at one time or another, will need to visit a health care facility – whether for a short time or a long time, for ourselves or our loved ones, health services affect us all. The more Northern Health hears from community members, the more effectively we can create facilities that reflect the unique and diverse needs of the communities and patients we serve.
Register for Let's Talk to have a say in Northern Health's capital projects
Let's Talk Northern Health is an online platform that Northern Health launched in 2020 to keep community members informed about construction and renovation projects (also called "capital projects") – and to get your feedback on those projects.
We use Let's Talk Northern Health to keep people informed about projects, ask and answer questions, and much more.
Anyone can visit the site and read the information to stay informed. But to "talk" to us on the site – for example, to ask a question, post a comment, or participate in a survey – you need to register.
Registration is easy
It takes less than five minutes to register for Let's Talk Northern Health:
Fill in the blanks
Open your email and confirm your registration
The only requirements:
An email address
A login name (not your email)
A password (8 - 16 characters; must contain a combination of numbers and letters, with at least one lowercase and one uppercase letter)
Answering some basic questions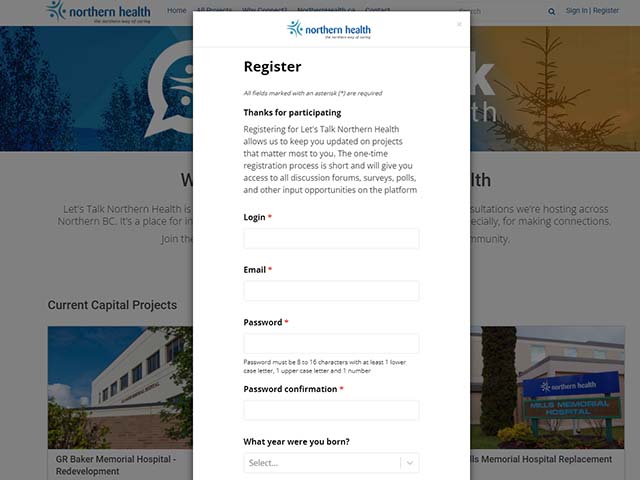 Online engagement is more important than ever
Let's Talk Northern Health isn't the only place we'll be sharing information and facilitating conversations around capital projects. But safety restrictions related to COVID-19 limit communications and engagement techniques Northern Health would traditionally use, such as open houses and face-to-face meetings.
Northern BC is also one of the largest geographical health regions in the country, and has many remote communities and residents with different needs and wants. And while facilities are located in specific communities, they're accessed by patients from outside those communities as well.
Even before the pandemic, Northern Health recognized that an online platform was necessary to extend our reach to people throughout the region who can't attend events in person. Our world is more digital than ever, and we have the tools to have digital conversations, so that's what we're doing.
Current projects on the go
Currently, the Let's Talk site features four Northern Health projects, each with their own project page. Check them out!
Register today!
If you're passionate about a project and want to contribute to conversations about the future of health care facilities in your community and Northern BC, register today for Let's Talk Northern Health!
Tell your family and friends to register too: the more people on the platform, the better the conversation. And the better the conversation, the better the outcomes for patients, staff, members of the public, and your community!