Breastfeeding has been a special way for me to understand and satisfy the needs of my two children. When I was pregnant with my second child, I wondered what it would be like to breastfeed both children at the same time. As it turns out, there was a lot to learn! I hope that sharing our family's experience with tandem breastfeeding (or "tandem nursing") will be helpful for other families.
Breastfeeding during pregnancy
My daughter continued to breastfeed during my recent pregnancy. Although she was surprised by my reduced milk supply, it was a wonderful way to strengthen our bond while we prepared for her sibling's arrival.
Part way through the pregnancy, hormonal changes caused me to have sensitive nipples. This is normal. Yet, it made things extra sensitive when she latched on to breastfeed, and I developed an aversion to her latch.
I learned that, while breastfeeding during pregnancy can be a beautiful experience, it's unlikely that mothers will enjoy every single moment. Deep breathing and other coping strategies helped me work through this.
Juggling a new baby and an older child
When my son was born, I was excited to breastfeed both children together. I quickly learned the importance of a comfortable position, for all of us, such as in a rocking chair or laying down in bed.
My daughter, being an experienced nursling, helped to establish my milk supply and to alleviate breast discomfort – hooray for no engorgement!
She was also able to tell me her feelings about the new situation, and expressed her frustration with needing to share "mama's milk" (she also said my milk tasted like coconut!).
Over time, I've learned about setting boundaries with my daughter. Since my aversion to her latch continued, we needed to adjust how often she would breastfeed.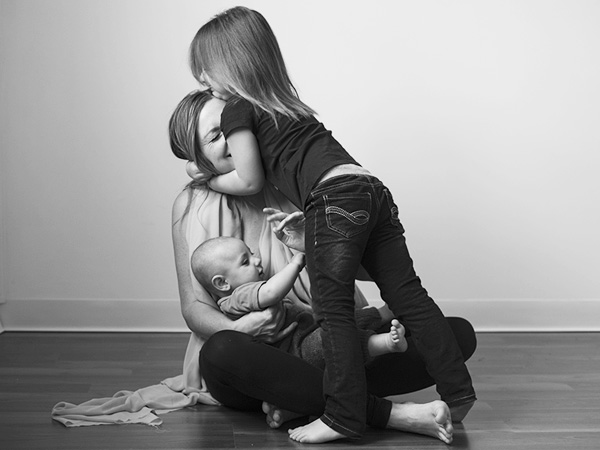 "Tandem nursing has been a great way to strengthen my connections with each child and even between both siblings."
Things that helped us
A strong support system – I've recognized my need for ongoing support. Friends and family are just a text message or phone call away. Sometimes though, I've needed unbiased guidance and have found peer-to-peer support really helpful, such as through attending mom and baby groups.
Meeting each child's needs – Tandem nursing has been a great way to strengthen my connections with each child and even between both siblings. I've also found it helpful to spend some undivided time with each child.
Acceptance and gratitude – Nourishing and comforting two small children, each with their own unique needs, is no small feat. I've learned that breastfeeding is not always a blissful experience – it can be overwhelming at times. By practicing gratitude and accepting what is going well, this has helped me to overcome some stressful moments.
Prioritizing self-care – As a parent, learning to care for myself has been one of my greatest challenges. Tandem nursing is not just about the kids; it also includes the mother! I need to be cared for too – getting rest, staying well hydrated and nourished, getting some time for myself, and addressing my own needs. This is a work-in-progress for me!
Need some additional resources?
If you're considering tandem nursing too, don't hesitate to reach out for support:

Connect with family and friends who have experience with tandem nursing
Contact a La Leche League (LLL) leader in your area
Visit local mom and baby groups (check your community's resource list)

Read the Adventures of Tandem Nursing: Breastfeeding during Pregnancy and Beyond, by Hilary Flower – consider asking your local public library to bring in a copy of this book
Ask your health care provider for professional breastfeeding support, especially if you're experiencing ongoing issues and frustrations.