The Physician Quality Improvement (PQI) Qualitycast North podcast highlights Northern physicians who lead the way in a culture shift for quality improvement. The PQI Initiative is one of two flagship programs of the Specialist Services Committee (SSC). The SSC is a partnership between the Government of BC and Doctors of BC, and includes regular representation from health authorities. As such, the PQI initiative is co-designed in collaboration with all health authorities.
Podcast host Dr. Shyr Chui connects with guests from all over Northern BC to talk about their lives, their work, and how they're improving health care – with a focus on quality improvement. Listeners are able to learn more about innovative quality improvement projects that address some of the challenges encountered by Northern patients and healthcare providers. The podcast also helps listeners explore the unique benefits of living and working in Northern communities and learn about their health care providers on a personal level.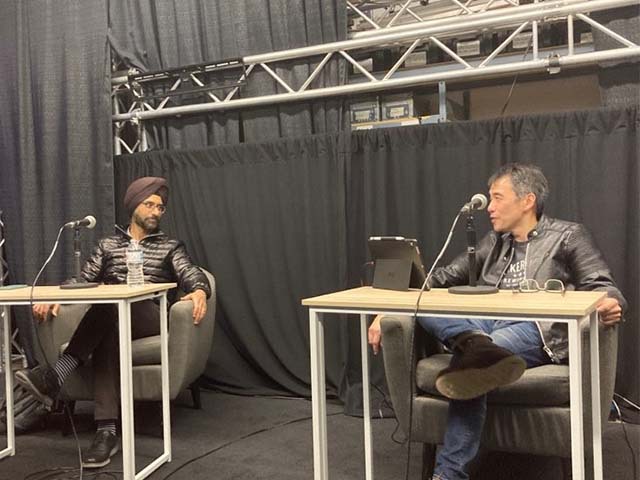 In mid-February, after only three and a half months of operation, Qualitycast North episodes had been accessed more than 500 times, by people all over the world. The PQI team would like to extend their thanks to you for tuning in and listening to discussions about how Northern physicians are working to improve health care for Northerners.
Whether you're new to the podcast, or revisiting to listen to your favourite episodes again, see the Qualitycast North webpage for access to every episode!
Posted episodes
Dr. Jon Fine - Reducing hospital readmissions in the frail and elderly population (April 1, 2022)
Duane Jackson, patient advocate – Humility is the key: Incorporating the patient and family perspective in improving healthcare quality (March 3, 2022)
Dr. Denise McLeod - Keeping patients with chronic obstructive pulmonary disease (COPD) out of hospital and in the community (February 18, 2022)
Dr. Matthew Wahab - Seeing clearly in the emergency department: Raising quality and streamlining visits for patients with eye complaints (January 26, 2022)
Dr. Joe Costa - More than just a pretty picture: Getting the right x-rays first time, every time (January 1, 2022)
Dr. Anurag Singh – Long-distance medicine: Setting up a rural specialist tele-kidney care service from scratch (December 16, 2021)
Dr. Omowumi Iyaoromi - All bodies are good bodies: Overcoming weight bias in primary care – how understanding a hidden problem can lead to higher quality care (November 25, 2021)
Dr. Denise Jaworsky - Chronic Obstructive Pulmonary Disease (COPD) Group Medical Visits; leveraging patient education to reduce hospital admissions and emergency room visits (November 5, 2021)
Upcoming episodes
Dr. Kalah Blackstock - Acing the A1C: Improving the management of diabetes at the Northern Roots Primary Care Clinic
Dr. Shyr Chui - Chasing the sharper image: Improving image quality in the MRI department