January 27 is World Breast Pumping Day, a day to share stories to help acknowledge and celebrate breast milk pumping and human milk feeding. Today, we hear from Jessie King, an assistant professor of First Nations Studies at the University of Northern BC in Prince George. She's the mother of two young boys, and feeding exclusively with pumped breast milk was an important part of her feeding journey.
How did exclusive pumping come to be part of your feeding journey?
Feeding my first child was a challenge. It was a mix of latching issues, pumping, not enough milk, too much milk, sleep issues - all while I was still working on my PhD! It was stressful. I provided only my milk for the first six months, then moved to a mix of half breast milk and half formula. This worked for us, and we did this to 18 months.
Before my second child, I learned more about my feeding options. I learned about double pumping, timing it, encouraging a letdown, and breast milk storage. When my baby arrived, I set up a schedule where I would pump at certain times over the day, such as during his naps and between my classes. It worked well for us; we found our flow.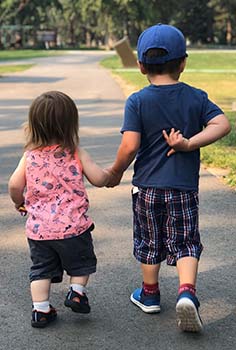 Why did you find that exclusive pumping worked well for you?
At the time I was a student, working full-time and paying for childcare. I needed a way to feed my children when I was out of the house, at conferences, etc. I found that pumping was cost-effective and convenient. For example, breast milk lasts longer than formula; with a fresh pump, milk is good for four hours at room temperature. And once I found my routine with pumping, feeding, and sterilizing, I found this easier than my previous half- breast milk, half-formula experience.
Did you experience any challenges?
At the same time that I was celebrating finding something that worked for me, I was also feeling discouraged. The message from health care providers and from society seemed to be that I should continue to try feeding directly at the breast. I even had a stranger come up to me and say that it was too bad that I couldn't enjoy "real" breastfeeding! I was often in a place where I had to defend pumping; it was exhausting. Yet, I knew I was doing the right thing; I found my flow, it was working for me, and I wanted to stick with it.
Do you have any messages you'd like to share about exclusive pumping?
We need to take care with how we talk about exclusive pumping. I feel that some people view pumping as being "less than" or somehow more convenient than feeding at the breast. In fact, exclusive pumping is a lot of work, and it can't be a decision parents make lightly. It can feel like both a privilege and a failure: a privilege if you can access a good pump, or a failure if your goal was to feed at the breast.
What would you like health care providers to know about pumping?
We have an incredible opportunity to support parents who may be considering pumping but who need resources to learn how to do it successfully. Based on my experience, here are a few things that might be helpful:
Be aware of feeding options; breastfeeding can look different for different people.
Explore why people might be considering various feeding options.
You don't have to have all the answers all the time, but maybe you can look into options for your client, so that you can leave the door open for conversation.
Can you play a role in making double pumps more available to parents? This is not something that is easily available to all.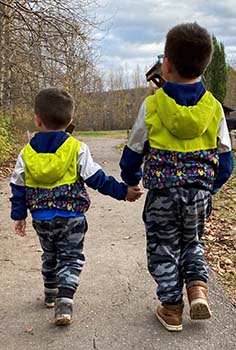 What would you like parents to know about pumping?
Some parents may be surprised to learn that exclusive pumping is an option. Here are some things that helped me:
Figuring out what was best for me and my baby. I had to focus inward: What are my values? What resources do I have available to me?
Using a double pump – it was a tool that helped me achieve my goals. It cut my pumping time in half and doubled my milk production.
Learning and sharing with others in online support groups about double pumping.
Ultimately, be gentle with yourself. Your journey is your own. Reach out, ask questions, and stay true to what you and your baby need.
Thank you, Jessie, for courageously sharing your story!
Learn more about pumping breast milk: