When Dr. Remi Oyedeji arrived in Dawson Creek from Nigeria in 2016, winning a community award was not something he had ever expected to happen.
Born and raised on Nigeria's coast, in the bustling, seaside capital of Lagos, Dr. Oyedeji moved inland to study medicine after high school in 1997. He completed his Bachelor of Medicine in 2007 at Obafemi Awolowo University in Ile-Ife, an ancient city famed internationally for its antique and naturalistic bronze, stone and terracotta sculptures.
Following his graduation, Dr. Oyedeji completed a medical internship in the Wesley Guild Hospital Unit of Obafemi Awolowo University Teaching Hospital, in Ilesa Osun state, and participated in a national youth service program in Irrua Specialist Teaching Hospital, in Irrua Edo State, before beginning his residency in family medicine at the same hospital in 2010. After working for several years as a family physician in Nigeria, Dr. Oyedeji and his family decided to immigrate to Canada.
They landed in Edmonton, and in the early spring Dr. Oyedeji visited Dawson Creek. He was participating in the recruitment program managed by the Practice Ready Assessment Program, British Columbia (PRAPBC). The program, which is run in collaboration with the various provincial health authorities, the Ministry of Health and Doctors of BC, is designed to help internationally-educated medical graduates become fully-licensed family physicians in BC. Through PRAPBC, Dr. Oyedeji also visited Vancouver and Quesnel before ultimately returning to Dawson Creek, where he took over the practice of Dr. Mike Pilgrim and began to build a life with his wife, Shola, and their three children.
An exceptionally welcoming community
"What we loved about Dawson Creek was the people," says Dr. Oyedeji. "Everyone is very easygoing, and so friendly and caring. When you walk by someone on the street, they don't look past you—they actually see you. I have found the community here to be exceptionally welcoming and kind, and that's what makes living here so wonderful."
Dr. Oyedeji works as a family physician at the Dawson Creek Medical Clinic and provides medical care at the Dawson Creek Hospital in the Emergency Room, in hospital care and at the long-term care facility in the community. A member of the University of British Columbia's Faculty of Medicine, he also teaches medical students during their rural family medicine rotation.
Citizen of the Year Award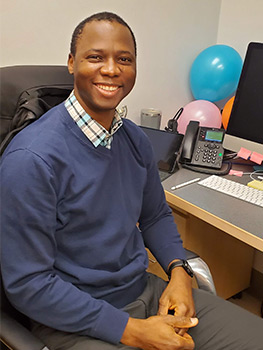 In 2020, when Dr. Oyedeji was nominated for the town's Citizen of the Year Award, he was shocked.
"I was really surprised to be nominated and then to win the award," says Dr. Oyedeji. "It is just not something that ever crossed my mind, but I was humbled and delighted to be honoured in such a way by the community."
His nomination was submitted anonymously and praised his leadership throughout the COVID-19 pandemic, as well as the level of care he provides as a family physician.
"COVID-19 has brought incredible complexity and hardship to our lives as individuals and members of a small, remote community," said Dr. Oyedeji, "but the way Dawson Creek has rallied together and adapted so quickly has been really fantastic to see and I'm proud of what we have accomplished."
Exploring the beauty of the landscape
In his spare time, Dr. Oyedeji plays golf and hikes. His greatest passion is photography; he likes to run or cycle, camera or drone at-hand, in the early mornings or evenings to catch the best light.
"Coming from Nigeria, it is really fun to explore photography in a place that is so different geographically and architecturally," says Dr. Oyedeji. "It's a great way to learn about a place and I've had a lot of fun in the last years photographing the town and surrounding natural environment."
According to Dr. Oyedeji, the hardest thing to adjust to has been the eight months of winter.
"We finally took up skiing this year," he says, "and that has really helped!"