Dr. Judy Dercksen knew she wanted to move to Canada. She took the first job offered to her—a one-year locum position in Quesnel—and never looked back.
"I'm originally from South Africa but in 2002 I was working as an ER physician in Sakhalin, Russia, when I received the offer from Quesnel," says Dr. Dercksen. "Our plan had been to stay in town for just the one year, then move to another job in Salmon Arm where they had offered me a permanent post. However, when my husband and I crossed the Quesnel River Bridge we felt an instant connection to this place, and knew it was home."
Small town, big growth
Dr. Dercksen is still practicing family medicine in Quesnel and credits the small community for much of the personal, professional, and spiritual growth she has experienced over the years.
"It is not like living in a big city or working in a big hospital," she explains. "Here I can really connect to my patients. I can get to know them and develop a connection to them. Living in Quesnel has really supported my spiritual growth. I am closer to nature and I am more connected to my community and everything around me."
Practicing in a small community has also allowed Dr. Dercksen to create relationships with other physicians, allied health, hospital, pastors, community services and community groups, and has created a true sense of team-based care in her practice.
"I have forged deep connections with the clinical team members, the social workers, the counsellors, the community resource groups, and my patients," says Dr. Dercksen. "The community is so friendly, open, and accommodating. It just wouldn't be the same in another place."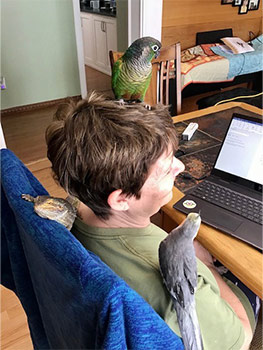 Addressing pain in collaborative ways
Dr. Dercksen believes that her connection to her patients has helped facilitate positive care experiences at all stages of their lives, but especially when supporting patients during end-of-life. She is passionate about supporting patients with chronic pain, Post-Traumatic Stress Disorder (PTSD), and chronic inflammation. She has put considerable effort into improving care for patients with those conditions in her community, notably through the development of a comprehensive website, and through innovative virtual group appointments.
Dr. Dercksen's website, PainImprovement.com, began as a web-based tool to help patients manage chronic pain. It has grown in scope to provide accessible resources for both patients and health care providers to manage chronic pain, mental illness, and advanced-care planning.
Developing her website has been a journey of professional and personal growth, born through her interest in writing about apartheid in South Africa and the devastating psychological and physical effects of racism. After completing some writing courses, she began to learn more about complex PTSD, and methods to treat it, such as EMDR (Eye Movement and Desensitization and Reprocessing) therapy.
Learning about the downstream consequences of complex PTSD, adverse childhood events, chronic pain and chronic inflammation has given Dr. Dercksen a greater understanding of her patients and their disease. Working on the website has also helped Dr. Dercksen process her own childhood trauma and has facilitated better connections for her patients with allied health care workers, the local Women's Resource Centre, and others.
Through her commitment, learnings and communications, she is now a resource in the community, as doctors refer patients to her when they are struggling to manage patients' symptoms of chronic pain and complex PTSD. Her reach is not limited to Quesnel; physicians and chronic pain specialists from all over the world have referred to Dr. Dercksen's website.
Supporting improved care through research 
In early 2020, she initiated a physician quality improvement project aimed at establishing group medical visits for patients living with complex PTSD and chronic pain. The goals were to provide access to EMDR therapy, connect patients with community support and decrease use of the emergency room by this patient demographic. While some aspects have changed, or been postponed due to the COVID-19 pandemic, Dr. Dercksen has been able to successfully facilitate group visits and connect with patients virtually.
Ultimately, Dr. Dercksen wants to raise awareness of the value of looking at the whole person when considering chronic disease management, and the importance of working with social workers, allied care workers and counsellors to reach patients and support healing before they require acute care. She believes that if healing and self-management occurred sooner, we would likely spend much less time and money on emergency department visits and hospital admissions. Most importantly, she believes patients would also enjoy a better quality of life.