By Louise Parkes, Recreation Therapist – Supervisor; Lynn Aucoin, Recreation Therapist – Supervisor
Beautiful handmade items donated to long-term care sites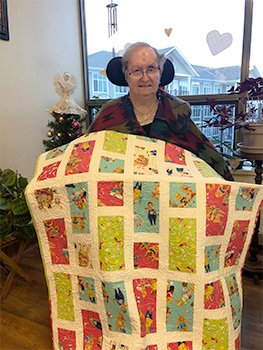 The Prince George Quilters' Guild created and donated over 40 beautiful handmade lap blankets and some walker/wheelchair bags earlier this year.
The blankets and bags are very intricate in design, with some featuring attached pockets. Each one was made with love and we are so fortunate to be the recipients.
Parkside Recreation decided to share these beautiful creations between our four long-term care sites in Prince George: Parkside, Jubilee, Rainbow and Gateway.
Thank you
A huge thank you to each member of the PG Quilters' Guild who were part of this amazing gift. On behalf of the LTC residents and LTC recreation team, thank you!