The first "class" of Northern Health Relational Security Officers (RSOs) have officially completed their training. On September 22, 2023, an event was held at the University Hospital of Northern BC (UHNBC) in Prince George with Northern Health leadership to celebrate this new and exciting program and to thank the first group for their dedication.  
"Northern Health initially had no in-house protection services program, and in a remarkably short amount of time this program was created," said Ciro Panessa, President and CEO of Northern Health. "We are embarking on a journey that goes beyond traditional security measures, and pioneering a new approach to safety built on a team-based system of care."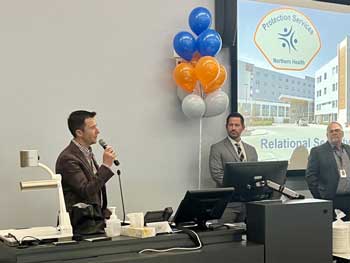 In the fall of 2022, the Ministry of Health announced they were taking proactive steps to build safer workplaces for health care workers and patients by introducing a new security model called Relational Security under the Protection Services program. The province is partnering with health authorities to establish this new model in health care settings at select sites with the goal of reducing violence and psychological injury among the health sector workforce by integrating these services within a team-based system of care. 
"Today is a significant day for Northern Health," said Chris Charters, Regional Director of Protection Services. "This class of Relational Security Officers is the first recruit class and first ever group of in-house officers to our organization. We take pride in where we have come from and the direction we want to go."  
In addition to UHNBC, the program is being piloted in Mills Memorial Hospital (MMH) in Terrace and Prince Rupert Regional Hospital (PRRH). RSOs will be trained and introduced to these facilities in the coming months.  
"It's been a whirlwind leading up to now, very evident that this has been a joint effort locally and provincially," said Kailey Miller, Executive Director of the Provincial Health Human Resources Coordination Committee. "We are committed to program evaluation and quality improvement as we look to sustain the program, grow, and ultimately prevent workplace violence." 
Relational Security leverages the knowledge and understanding we have of a patient and the environment, and translates that information into appropriate response and care.  
"We are not just looking for security of building, but also peace of mind," said David Williams, Vice President of Human Resources.  
As a foundation to this model's principles, RSOs are being trained to have acute awareness of patients and their surroundings, as well as how to anticipate, de-escalate, and ultimately reduce violence and aggression in partnership with the patient care team. RSOs will receive education and training in violence prevention, cultural humility, trauma-informed practice, and advanced security. 
We'd like to express our gratitude to our new RSOs and Protection Services staff – their roles will be so important for the safety of our staff and the people we care for.