Lives may be saved thanks to the Prince Rupert Cancer Talent Auction Group and the Prince Rupert Rampage. Both the fundraising group and the hockey team helped raise $107,000 earlier this year to purchase three new cancer detection scopes for the local hospital.  
These new scopes will significantly improve the cancer screening program and endoscopy services for residents of Prince Rupert and nearby communities by better enabling the health team to detect cancer early.  
Three new scopes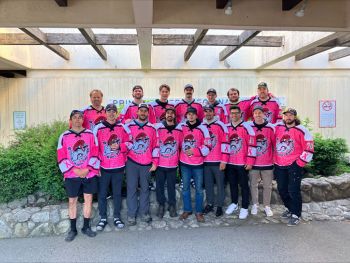 Scopes allow health care staff to see inside patients' bodies. The three new scopes purchased for the Prince Rupert Regional Hospital (PRRH) include one gastroscope and two colonoscopes.  
The new, therapeutic, high-definition gastroscope uses image-guided therapy. This new scope screens the esophagus, stomach, and intestine areas for cancer and will support the approximately 200 gastroscopy procedures performed annually at PRRH.  
The two new, slim, high-definition colonoscopes will support the approximately 480 colonoscopy procedures performed annually at the hospital. A colonoscopy looks at the inside lining of the rectum and colon to identify polyps and perform biopsies. With a narrow diameter, the slim colonoscope are better able move through tight areas, making procedures easier to perform, and reducing the risk of tearing. 
Thank you for the support 
A big thank you to the Prince Rupert Cancer Talent Auction Group who have been assisting with cancer care for the Prince Rupert Regional Hospital for over 40 years. This is a group of women dedicated to raising funds for cancer prevention, detection and treatment in the community. Over the years, the group has helped support many equipment purchases and many improvements in the hospital's cancer unit. 
Also a big thank you to the Rupert Rampage, Prince Rupert's Senior AA men's hockey team. The team dedicated January to 'Fight Cancer'. At each hockey game that month, the team wore pink jerseys and promoted bake sales, raffles and fundraised for the scopes.