In February 2021, Fort St. John Hospital and Peace Villa purchased a nuclear medicine CT camera (or SPECT-CT) – a specialized piece of equipment that combines two different scans (nuclear medicine and CT) into one, for a more complete view of the body. The addition of this equipment, which cost over $1.7 million, required specialized training for Fort St. John nuclear medicine technologists. Two technologists were hired over a year ago, improving both patient care and overall safety in the department. Having now completed additional training, they are pleased to be able to offer three new tests for improved diagnostic assessment in the Northeast.
What is nuclear medicine?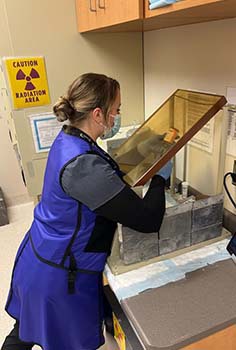 The technical process of nuclear medicine (NM) imaging involves a technologist injecting a radioactive biological tracer into a patient, and then taking images of the body as the tracer decays over time. The camera detects gamma rays as they are emitted from the tracer, which produces a 2D or 3D image. Nuclear medicine tests are used to detect cancer, as well as a number of cardiovascular, neurological, and physiological abnormalities.  
Riley Smith, a supervisor and registered nuclear medicine technologist at the Fort St. John Hospital, was trained at BCIT in an intense 24-month program, and has worked in Vancouver and Prince George before coming to Fort St. John. Julia Paslawski, also a registered nuclear medicine technologist, works alongside Smith and has contributed to the department's efficiency and quality. Their job is to prepare and do quality tests on radiopharmaceuticals (radioactive preparations for injection, ingestion, or inhalation), prepare and administer the radioactive biological tracers, and ensure safe practice and use of the materials – including assessing and mitigating cross contamination. Technologists work closely with the radiologists in the planning and administration of these tests.
Expanding services and testing offered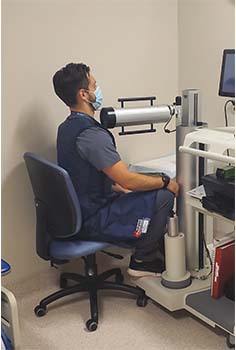 Three new types of tests are being offered once again at the Fort St. John Hospital because of this new equipment and training:
Parathyroid scan (with contrast diagnostic CT) – One of the most intricate scans of any modalities (involving 2D and 3D imaging, contrast, nuclear medicine, and CT), this scan assesses parathyroid functioning, and is used to detect cancers and in the planning of surgeries.
Brain scan (with diagnostic CT) – Conducts 3D imaging and diagnostics of the brain to assess blood flow and highlight areas of malfunction. This scan helps to detect epilepsy, dementia, and Alzheimer's diseases.
Bone scan (SPECT with diagnostic CT) - Using 3D localized imaging and diagnostics, this scan assesses inflammation due to new fractures, bone infection, and rheumatoid arthritis, and also detects cancer, among other malfunctions.
In addition to these more specialized testing options, nuclear medicine technologists regularly perform other types of scans – the most common being heart and bone scans.
Local testing reduces patient burden
Smith was quite excited as he talked about the benefits of being able to offer this kind of specialized service in the region. While this department has previously offered these scans, it's been over one year since patients could come to Fort St. John for these tests. The addition of the diagnostic component to those tests makes them much more effective and informative, and reduces the likelihood of patients needing repeat tests.
The NM-CT is only available in three locations in the North: Prince George, Fort St. John, and Terrace, and previously Northeast patients had to travel long distances to access these tests. Bringing the services to the Northeast reduces travel time and costs for people needing to access the tests, and with winter fast approaching, this is especially important for patient safety.
Due to staffing turnover, the Fort St. John Hospital went a few months without any nuclear medicine technologists. Now that there are two, more patients are being seen and the safety of the department is improved. In fact, they've seen a 60% increase in the number of scans performed since September 2021 – when the department was reopened. Smith wanted to highlight that for these types of tests, patients can usually be seen quite quickly after being referred – for some tests, only one to two weeks. Once a referral is received from a physician, technologists assemble appropriate materials needed to perform the scan, and schedule patients in. After a test is completed, the radiologist will read the results and create a report of the findings for the referring physician.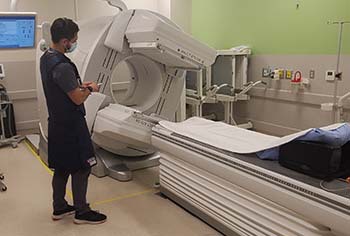 Mixing the outdoors and opportunity
Originally from Vancouver, Smith came to the North for work and enjoys an active, outdoorsy lifestyle.  He has already moved into a supervisory position in a relatively short time, and is clearly passionate about what he does and what nuclear medicine has to offer patients. After detailing the responsibilities of his role, he summarized in his own words, "we are specialized, but we do a lot of interesting, fun stuff here: like radioactive eggs for stomach function tests." Northern Health is lucky to have him and his colleague Paslawski, building their knowledge and skills and improving the care of patients across the region.
Ever wondered what it takes to work in nuclear medicine? Learn more about potential career options with Northern Health and the training required.