May is National Physiotherapy Month in Canada. It's an opportunity to recognize physiotherapists for their significant role in health promotion and the treatment of injury and disease. Physiotherapists combine their in-depth knowledge of the body and how it works with specialized hands-on clinical skills to assess, diagnose, and treat symptoms of illness, injury or disability.
To celebrate, we're sharing the stories of two Northern Health physiotherapists. In this story, Stephanie Haberstock tells us about her new role at the Dawson Creek and District Hospital as a regional clinical practice lead. She began her career as a physiotherapist after being introduced to the profession in her years of playing high-level sports. She says she quickly discovered her passion for public practice after working in small rural communities as a student.
Tell us about your role
"I've been in the regional clinical practice lead position since January of this year. The first few months have focused on building a plan with the regional team on how we can support rehabilitation services here in the North. I've had the pleasure of connecting with clinicians either virtually or in person from all over Northern Health to hear what their priorities are for rehabilitation services and how we can best support them to provide excellent patient-centred care. We've also started working on improving orientation and onboarding processes for clinicians, improving continuing education opportunities, and building an overall supportive community of clinicians across Northern Health through things like our communities of practice.
The part of the role so far that I enjoy the most is all the relationship-building with clinicians and leadership that will improve rehabilitation services in Northern Health. With the large region we have in the North, we're often very isolated from each other, but being able to connect and build those relationships with clinicians and help them build relationships with others has been really encouraging."
What impact does your role have on patients?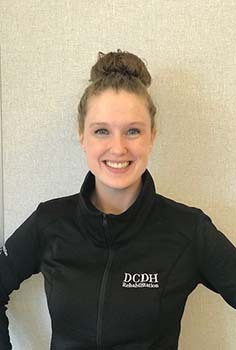 "The impact this role has on patients is through the development of strong rehabilitation clinicians and providing better access to programming across the health authority. If I can support clinicians to provide a high level of evidence-based patient-centred care, then it's the patients who ultimately see the benefits. Again, the geography of our health authority can sometimes be a little bit of a challenge, especially for patients in more rural and remote areas, but it's our goal to improve access to overall rehab services programming."
What's something thing you wish everyone knew about physiotherapy?
"After working here in the health authority for the past few years, I wish that everyone knew how many ways a physiotherapist can make a positive impact on their lives. Physiotherapists work with such a diverse group of individuals and in a variety of different clinical and non-clinical settings. I think people would be surprised about how involved we are in a variety of realms of health care. We're involved in most areas of the hospital from post-surgical patients, to the emergency room, to maternity and delivery. We're also involved in a community-based setting and inter-professional teams where patients can receive care in their own homes. We not only work in almost all practice areas, but we also work with people of all ages, which expands the scope of physiotherapy even more! Physiotherapy can play such a crucial role in a person's overall well being, and I wish everyone had a physiotherapist as part of their health care team."
What do you like most about working in Dawson Creek?
"Rural practice has always been a passion of mine. I had multiple student placements and education opportunities in rural and remote Saskatchewan where I did my master's degree as a physiotherapist. In a rural community, you can practice with a wide skillset, you have greater collaboration with other health care providers in a smaller setting, and you get the opportunity to provide input on innovative approaches to improve services and programs in your community, which is a really cool experience that you might not get in large urban settings! To me, one of the biggest draws of rural practice is building relationships within the community and becoming an integral member of the fabric of that community.
We moved up to Dawson Creek in 2018, and since moving here, my husband and I have been involved in many community events and have built friendships here outside of work and in our work environments that will last us a lifetime. We're very lucky to call Dawson Creek home. I hope to continue to be a part of this community for many years to come!"
For more information: