What do you get when you mix culture and food? Celebration? Sharing? Fun? You might think so . . . except when it's "diet culture."
For the past 30 years, May 6 has been celebrated as International No Diet Day. It's a day to promote the importance of respect for all body shapes and sizes and to reject diet culture. In 2018, I wrote a story about my frustrations with diet culture: International no-diet day – say goodbye to diet. This year, I asked my registered dietitian colleagues in Northern BC to share how they "ditch diet culture" at work. Here are just a few of their thoughts:
Reframing how we think about food
"Most people think of 'diet' as a four-letter word. However, its roots are in the Greek word diata, which means "a way of life," and refers to patterns of eating which support mental and physical health. I focus on improving quality of life by helping clients and colleagues to normalize eating behaviours. Often, this means adding on, versus taking away – e.g., topping a favourite cereal with a higher-fibre cereal and/or dried fruit rather than removing a favourite cereal because it isn't a great source of fibre."
   -- Tanis, Primary Care Dietitian, Burns Lake
"Diet culture tells us that there is a "right" way to eat and that if you don't do so, you are being "bad." When I worked as a clinical dietitian, I supported clients with all sorts of health conditions. Many clients felt paralyzing guilt; they blamed themselves for their diagnoses and this kept them stuck. However, health is shaped by a variety of things, many of which are outside of our control. I would help clients to understand that healthy eating should be flexible and enjoyable. Feeling good about eating is so important!"
   -- Lise, Population Health Dietitian, Terrace
"Working in food service management, I look at food more holistically, in line with Northern Health's definition of healthy eating. In practice, this means choosing foods and recipes that are nourishing, comforting, and tasty – regardless of how well they match diet trends of the day. What's most important is whether the food meets the emotional and physical needs of patients who are in our hospitals recovering from acute illness."
   -- Carly, Food Service Dietitian, Prince George
Focusing on the "how" of eating
"Focusing on eating competence and ditching the food journal has changed the game for me! Clients are more engaged when we talk about their experiences around food rather than the food choices they make. Diet culture forces us to see foods as "good" and "bad" and to assign moral value to the foods we choose to eat (or not eat). When my client and I can spend our whole appointment talking about eating without ever really talking about food, you'd be surprised how much progress can be made!"
   -- Amelia, Primary Care Dietitian, Fort St. John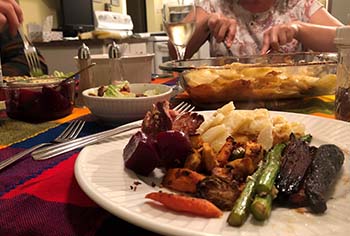 Recognizing that weight is not a behaviour
"In health care, I find that weight gets far more attention than it should. It's only one of many measures used in monitoring health and it likely shouldn't be used in many cases either! I like the statement "weight is not a behaviour," and use it as a starting point to further explore clients' beliefs about body weight and its role, or lack thereof, in their health. When we can separate weight from the things that really matter, I find it can lead to a much more meaningful conversation."
   -- Lindsay, Cancer Care Dietitian, Prince George
Building and sharing resources to support supportive environments
"Despite good intentions, diet culture can sneak into schools and the curriculum in ways that can be very harmful. I work with schools and other community partners to support weight-inclusive approaches to health. This means creating school environments where all bodies belong and are respected. It includes using teaching materials that reflect body diversity, addressing weight-based bullying, and rethinking the policing of school lunches. To learn more, check out Relationship with food and body | Northern Health."
   -- Emilia, Population Health Dietitian, Terrace
"At my long-term care facility, I try to provide a more relaxed approach to food and eating, even for residents with chronic diseases, like diabetes. It's not necessary to impose strict diets on people that often have difficulties eating and enjoying food. While this liberal approach is sometimes met with resistance, I think it helps residents to keep a positive relationship with food."
   -- Robin, Clinical Dietitian, Vanderhoof
"Occasionally, co-workers will ask my advice about nutritious recipes. When I recommend websites or books, I choose sources that don't use diet culture buzz words, like "guilt-free" (because all food should be guilt-free!) or "skinny' (because health and value exist at all body sizes)."
  -- Amelia, Population Health Dietitian, Fort St. John
Supporting learning
"I appreciate learning from the work and experiences of advocates such as Mirna Valerio, Sonya Renee Taylor, and Da'Shaun Harrison who are seeking justice, challenging the system, and changing the way we think about bodies. By looking to understand the lived experiences of people in larger bodies, this helps my efforts to support inclusive education, policy, and settings,  
   -- Laurel, Healthy Settings Advisor, Prince George
"I recently provided a two-hour education session for the primary care team in my community around diet culture and weight-inclusive health care. Together, we are learning more about how to build these approaches into our work with patients, with the goal of supporting all people to achieve health, regardless of their size and shape."
  -- Anna, Primary Care Dietitian, Mackenzie
These stories showcase the many ways that dietitians are working to ditch diet culture, and to support Northerners to develop and strengthen positive relationships with food and body. For more information about International No Diet Day, check out: