One Northern Health staff member in Health Emergency Management is being recognized federally for her contributions to public safety. Mary Charters, Director of HEMBC for Northern Health, was one of 124 winners of the 2022 Emergency Management Exemplary Service Awards, announced last week by Minister Harjit Sajjan.  
"Across Canada, there are many individuals and groups dedicated to keeping Canadians safe in the face of emergencies. On behalf of the Government of Canada, I would like to congratulate the 2022 recipients for their incredible efforts each day to help transform our emergency management landscape. Your hard work and dedication are deserving of our utmost respect and gratitude. I'm also grateful to provinces and territories for their collaboration to recognize these leaders and look forward to our continued work to award this prestigious honour to deserving individuals across the country." 
- The Honourable Harjit Sajjan, President of the King's Privy Council for Canada and Minister of Emergency Preparedness and Minister responsible for the Pacific Economic Development Agency of Canada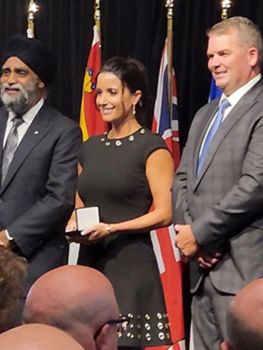 In her role as Director, Mary has worked directly on a number of emergency responses throughout BC. During the COVID-19 pandemic, she helped develop and was the Lead Director and Coordinator of the Rural and Remote First Nation Communities Framework. This aided in providing essential health care support to rural and remote Indigenous communities in BC. She is also the leading Director of the new provincial "Code Silver" working group which provides essential life-saving response options for health care workers in active shooter/attacker situations. She has provided exceptional leadership and expertise to collaborating partners, and has assembled a well-knowledge team that support in the preparation and recovery during emergency events. 
Winners of the award, launched in 2017, came from across the country and represented a variety of professions and disciplines in emergency management. The award recognizes the essential role that people working in the emergency management community play in the safety and security of Canadians, and is awarded in five categories: Resilient Communities, Youth, Search and Rescue Volunteers, Search and Rescue Employees, and Outstanding Contribution to Emergency Management.  
Mary was both honoured and humbled by the recognition. 
"When asked what this award means to me, I had to take a moment to pause and reflect on not only what this means to me, but what it means to choose a career in health emergency management. We are a passionate and resilient team of individuals here in BC who work incredibly hard to do our part in supporting safer care and the consistent delivery of health services in our communities before, during, and after emergencies and disasters. It is this collective work that makes us all successful and I am honored to have been able to bring recognition and awareness to our HEMBC program and highlight just a piece of what we do. At HEMBC we celebrate individuals and teams and I have been truly humbled by the response to this award and the solidarity it brings knowing that what we do truly matters." 
Northern Health is proud to celebrate her achievements and congratulates Mary on the honour of this recognition.