"We made something better"
October 1 to 7 is Breastfeeding Week in Canada! It's a time to highlight the importance of breastfeeding and the ways we can support families to reach their feeding goals.
Early initiation of breastfeeding after birth helps to get things off to a good start. I'd like to share with you some of the great work I've had the pleasure of being a part of: supporting families to be together after births delivered by Caesarian Section (c-section) at Kitimat General Hospital (KGH).
"It was a very lonely feeling"
As a nurse, I've been involved in the care of birthing families for almost a decade. During that time, I have seen practices shift towards a more family-centred model of care. In the past, when babies were delivered by c-section, moms and babes were separated for a period of time after birth. The baby went to the maternity ward with the dad/partner/caregiver, while the mom recovered for several hours in the post-antiesthetic recovery area (PAR).
This was my experience with the birth of both my son and daughter. For me, it was a very lonely feeling to be without my babies after delivery, and I have witnessed this experience in other mothers as well - a sort of separation anxiety. It's hard on the dad/partner/caregiver too, not to have mom and baby together. This separation can be stressful for the whole family.
"How could we change this?"
Our team wondered, "how could we change this?" Could we have moms and babies together in the post-operative recovery period? What would that look like? We found evidence-based guidance, such as that from the MoreOB program, to help make the case to explore this as an initiative in the best interests of moms, babies, and families.
Over 6-8 months, we worked together with different partners at KGH to come up with a procedure that would work well in our facility. We considered different scenarios, spatial arrangements, and medical needs. Then, we did simulations to figure out who would do what, when, and where. We picked one arrangement that the teams felt worked best; this was to have mom, baby, dad/partner/caregiver, the maternity nurse, and the PAR nurse all together in the PAR.
There were initially some concerns about how this would work. Change can be hard and our team members had questions: Would having a baby in the PAR be noisy and distracting? Would it be too crowded to have everyone in one area? However, those concerns melted away as the new arrangement became standard practice in our hospital. It's been well received and hugely successful. In fact, my colleagues have found that it's exciting to have a baby in the PAR.
It is as it should be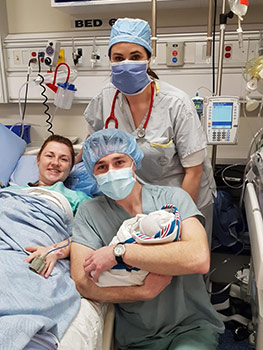 There are so many positives to share. Moms are still very sleepy in PAR, but dad/partner/caregiver can have skin-to-skin with baby right beside mom, which is reassuring. Moms seem to get through their grogginess more quickly, and when they are able, we can support them to hold their babies skin-to-skin. We have seen that this supports early initiation of breastfeeding, bonding, and quicker recovery for moms.
There has been an overwhelmingly positive response from families. While many may have hoped for a vaginal birth, I think that being with their babies as soon as possible after delivery supports them to feel more positively about their birth experience. It may even help to decrease the risks that can lead to postpartum depression (blues).
As a team, we strive for the safest delivery possible and consider the needs of the whole family. It was a process to change practice to support families to be together in the PAR. We communicated, made changes, and are better for it. Everyone feels that it is as it should be.