The following story was written in conjunction with Chief SLP Julie Lidstone.
There's always something new going on in the world of Northern Health, and recently it's been the Speech-Language Pathology (SLP) department buzzing with excitement!
In October 2019, SLP began training sessions on Fiber-optic Endoscopic Evaluation of Swallowing, or FEES. A FEES assessment entails passing a flexible fiber-optic endoscope through the nose to the hypopharynx to allow the examiner to see a panoramic view of the patient's throat, and more.
The first two-day course was completed by five speech-language pathologists at the end of October. In January 2020, the SLP department at the University Hospital of Northern BC (UHNBC) in Prince George worked with Dr. Eric Blicker, a certified swallowing specialist, in order to gain the competency and capacity to complete FEES assessments. This round of training included completing 20 of the assessments on various in-patients, out-patients, and long-term care residents (at Jubilee Lodge). The department has one more round of training to go, then they'll be able to begin to complete assessments on patients at UHNBC!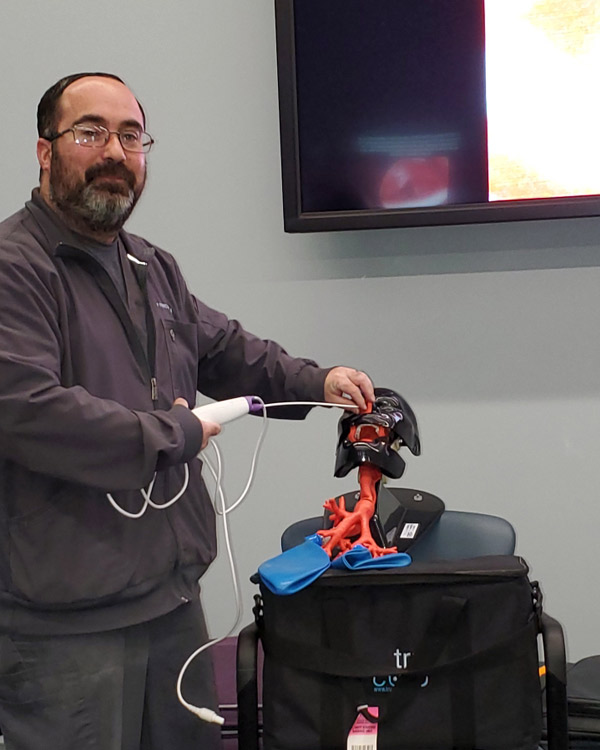 How it works
A flexible fiber-optic endoscope is passed through the nose to the upper pharynx. The scope connects to a monitor to view the nasal cavity, trachea, larynx, and pharynx. The scope remains above the level of the true vocal folds and trachea throughout the examination. With the examiner viewing all the action, a variety of foods and liquids are given to the patient, and the examiner can, in real time, observe the patient's swallowing and vocal cord function and note or address any issues.
Why might someone need a FEES exam?
A FEES exam can be helpful for patients with a variety of ailments, like general swallowing difficulty, pain during swallowing, and vocal cord and airway problems.
Benefits
A closer look:
Gives an inside evaluation of swallowing physiology and airway protective reflexes
Real-time identification of the presence, degree, and type of dysphagia
Identification of potential rehabilitation exercises
Provides a full colour image
Convenience:
Instant test results are available to share with staff as FEES is done at bedside because the machine is portable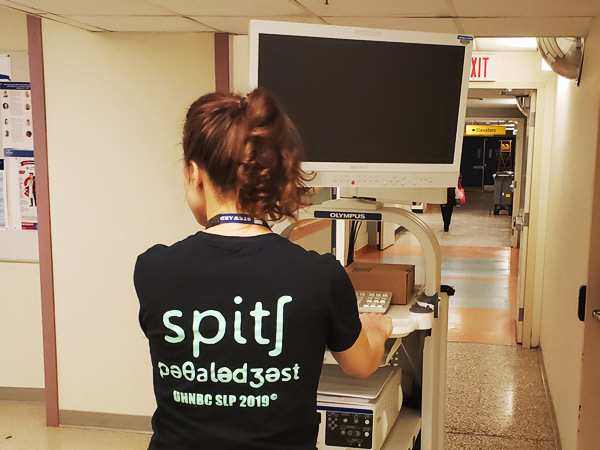 No radiation:
An alternative to Video Fluoroscopic Swallowing Studies (VFSS), which require booking the radiology suite
No radiologists or radiology technologists are needed to complete the assessment
No exposure to radiation and does not use barium
FEES has never been offered in the North to assess swallowing function. It's awesome to hear that training is almost complete, and that we'll have this amazing procedure available at UHNBC soon! Great work SLP department!