Northern Health recognizes that Northern BC communities are unique, with differing health and wellness priorities. IMAGINE Community Grants were created to support projects across Northern BC that address community-led health and wellness initiatives. The deadline for applications has been extended until October 31, 2023, so we recently chatted with Breanne Frenkel, coordinator of the community granting program, to learn more about the grants, who can apply, and what they look for in a successful application.
Why would someone apply for an IMAGINE community grant?
When grassroots initiatives and community projects require funding to get off the ground or need additional funds to incorporate health and wellness, that is when we'd encourage them to apply for a grant.
Who can apply?
Community organizations within the Northern Health region, such as not-for-profits, schools, PACs, First Nations and health centres, social service agencies, and local governments are just some of the groups that have received funding through IMAGINE.
Priority is given to new applicants, but those who have applied before are also welcome to apply again. Keep in mind we don't provide operational funding such as wages, long-term facility rental, or gas. It's project-based and we do not fund the same projects year after year. The goals (what you want to achieve) and scope (the steps you're going to take to achieve them) of the work would need to be different. Any projects that have been funded previously will need to have submitted their final report in order to apply for future funds.
How can an organization apply?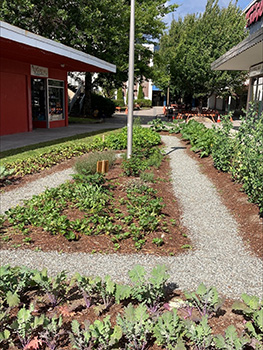 We launched a new online application system this fall, so people can apply easily and they can save their application as a draft before submitting. If internet connectivity is a problem, we can also support folks to apply on paper or over the phone. We can discuss other options for anyone who wants to apply, but needs support to do so.
What types of things do you look for in a successful grant?
A garden project in Kitimat is coming up green!
The project goals and scope should be easy to understand. The budget should make sense and your project should address an identified need in the community. More detail is better, as it helps us understand what you're hoping to do.
What's involved in the reporting process after the funding has been spent?
At the end of the year, we require a final report from organizations who were funded – a Project Legacy Form, where applicants can talk about the success of their project and the legacy the project has left on the community. We encourage them to share photos, interviews, or videos as part of their report.
When will the grants be offered again?
The next round of IMAGINE granting will take place in Spring 2024. There will also be another round of the Rural, Remote, and Indigenous Food Action Grants this fall. We encourage organizations looking for funding to visit our website to explore the other funding opportunities available. You can also subscribe to the Healthy Communities Ebrief to get timely information about granting opportunities available to Northern BC communities.
Questions?
Visit our IMAGINE grants webpage for more information, or feel free to call Breanne at 250-961-0253 or email healthycommunities@northernhealth.ca.