Northern Health's Virtual Primary and Community Care Clinic (VPCCC) was created in the early days of the pandemic, when it was known as the COVID-19 Online Clinic and Information Line. It was quickly put together to ensure Northern residents could have their questions answered when it came to COVID-19 symptoms, testing, and self-isolation. In November 2020, it was rebranded as the VPCCC to further respond to the needs of Northern residents by enhancing their access to primary care services.
The service has been evolving over the last two years as staff of the virtual clinic have started working together with rural and remote teams to help with primary and community care assessments, mental health assessments, and more. The new approach is proving to be valuable, not just for patients, but also in that it supports health care teams to prioritize and connect patients to appropriate services.
Helping clear a backlog in Mackenzie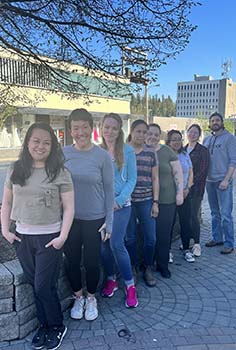 The virtual clinic recently worked with the primary care team in Mackenzie on primary and community care clinical assessments. The Resident Assessment Instrument (RAI) provides a snapshot of the services each client needs and how urgently they're needed. Due to the aging population in Mackenzie, the team found themselves backlogged with these assessments.
"We had 25 people sitting on our RAI list. That wouldn't be very big in Prince George, but in Mackenzie that was a six-month wait. The virtual clinic team took that on, and in three weeks we cleared the list!" said primary care clinic coordinator Robbin Worthington.
Assessing people virtually freed up valuable time for the primary care team on the ground.
"When you spend an hour doing an assessment, that hour could also be spent with two patients. It was so nice for our primary care nurses to have that time back in their lives to be able to do the work that they love," said Robbin. "It was the smoothest, best transition to have the virtual clinic take this on … they were fantastic!"
Moving forward
For the virtual clinic team, Mackenzie was just the tip of the iceberg. They have since expanded their reach to work with Dawson Creek, Fraser Lake, Prince Rupert, and Quesnel on primary and community care clinical assessments and mental health assessments.
But that's not all: the team has started training nurses to help communities that need support with other primary and community care services such as breastfeeding support, postpartum assessments, and education around sexually transmitted infections (STIs).
"If we understand where gaps and needs are in different communities, we can upskill our nursing team to support what makes sense to offer virtually in partnership with that community," said Dori Pears, primary and community care regional manager.
Eventually, the VPCCC will also offer a substance use stream to provide harm reduction support, education, and medication therapy to people who use substances in the North.
"While we're still responding to the pandemic, we're now also able to be more proactive and support communities virtually that might be struggling, so that the people on the ground can be used to do other work. It's exciting to see how we can think in a different way to build upon our health care system," said Dori.
How to contact the virtual clinic
The virtual clinic works with your family doctor, nurse practitioner, and health care team to complement the care you receive in your community, or to provide support if you don't have a family doctor. It provides culturally safe care to patients who need medical help after hours and want to speak to a doctor, nurse practitioner, or nurse by phone or video.
To talk to a family doctor, nurse practitioner, or nurse, call the virtual clinic:
Open daily 10 am to 10 pm Pacific time, including weekends and statutory holidays
Phone: 1-844-645-7811