Have you ever had the pleasure of celebrating a 100th birthday? I'm lucky enough to say I have – not once, not twice, but three times in my life!
The first centennial I attended was about four years ago, for a lovely lady who I'm sad to say has now passed. The second was a year and a half ago, celebrating a very dear friend, who I'm still lucky enough to visit with on a regular basis. The third was particularly special… and just this past week!
This birthday party was for the Auxiliary to the University Hospital of Northern British Columbia! This organization is run by volunteers, and spends countless hours (over a million during this 100 years) raising money to help the residents of Prince George and surrounding area get the health care they need!
Two Auxiliary members proudly unwrap the mural that now greets anyone entering UHNBC.
Here's to 100 more!
The special occasion was celebrated by a number of the auxiliary volunteers, members of the Spirit of the North Healthcare Foundation, local dignitaries, and residents of Prince George. A beautiful mural now hangs over the auxiliary desk in the main lobby, unveiled during the celebration alongside a bronze plaque commemorating their 100 years of tireless work! The tokens of appreciation were presented to Lindy Steele, Auxiliary President, by Colleen Nyce, Northern Health Board Chair.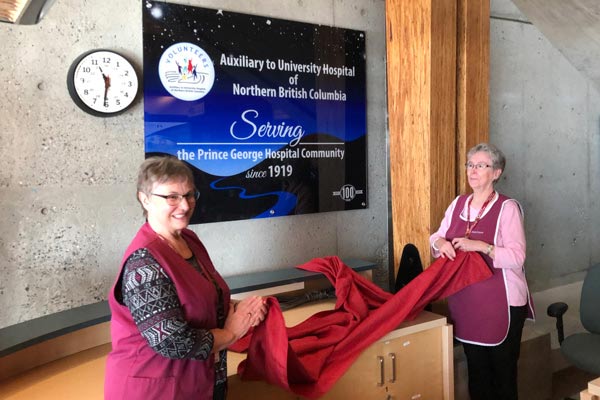 In their century of service to the people of Prince George and neighbouring communities, the Auxiliary to UHNBC has donated over $5.5 million and, as previously mentioned, over one million volunteer hours, to help improve health care at UHNBC. Their goal is to provide service to the hospital community by raising funds through the Auxiliary Gift Shop, The Hospital Auxiliary Thrift Shop, fundraising, and donations. They rely on the support of the community to assist them, and it's obvious to me this partnership is working!
Humble beginnings
It all started in 1919, in the form of providing linens, drapes, and other incidentals to the hospital. From there, the Auxiliary continued to grow and take on different fundraising opportunities to raise money for necessary items, from linens, to operating equipment, and anything else you can imagine!
Fact: you can't have a 100th birthday without a cake!
Say hello!
If you've ever walked through the doors at UHNBC as patient, a visitor, or as an employee, you'll have seen Auxiliary volunteers in their pink smocks, or burgundy vests, doing what they do best: helping others.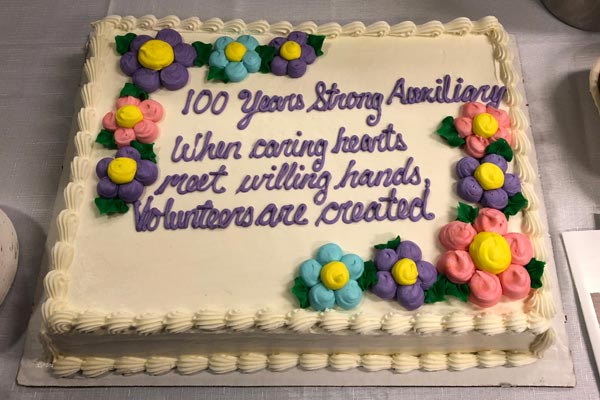 They'll direct you to the room of a loved one or the friend you're visiting, check you in for appointments at clinics, or help you through the gift shop in the hospital atrium, a hidden gem in my opinion!
I believe volunteers are a huge part of what makes this, and any, community thrive. Whether times were good or extremely hard, these volunteers continue to be the smiles that greet you and the helping hands that guide you where you need to go.
Thank you Auxiliary!
The Auxiliary to UHNBC is hosting the British Columbia Association of Health Care Auxiliaries (BCAHA) annual conference and AGM in Prince George in April of this year at the Prince George Civic and Conference Center. I don't doubt they will all celebrate this milestone, as we all should, with the UHNBC Auxiliary members. If you see one of these wonderful people, please thank them for their service.